Why the health and wellbeing of your pet is important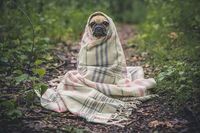 Britain is renowned as a nation of animal lovers, cherishing its pets as much as any other member of the family. But our affection for all creatures great and small goes far beyond the home.
When a fire at a dog sanctuary endangers the lives of hundreds of pooches, we raise millions to put a roof back over their heads. And you don't need to go far to see how seriously the law, media and British publish take animal welfare—The Guardian has an entire section devoted to the subject.
So when it comes to managing the health and wellbeing of our best friends, it's clear we Brits don't mess around. Here are some ways you can care for your animal's health every day.
The perfect diet is easier than you think
According to the PDSA, the delicate balance needed in a dog's diet means that you'll do best with a commercial brand of food, rather than a homemade meal. Of course you're happy to go the extra mile for your pet, but it can be very difficult to find the right blend of nutrients yourself for your specific breed size and age. At feeding time, you're best to leave it to the experts.
You can see how much science goes into the process of creating a dog food that helps prolong the healthy life of canines too:
source: Eukanuba
It's a similar story with cats too. Even more so than dogs, cats are highly carnivorous and they need certain nutrients that can only be found in animal protein such as taurine for eye and heart health. Once again, rather than trying to mimic the right diet for your cat, it's generally safer to go for quality commercial food, designed for their life stage.
What about our smaller furry friends?
Smaller species, such as rabbits, hamsters and gerbils each come with their own dietary needs—you can find a good nutritional starter guide here. The menus may look a little complex at first glance, but you can often feed more fresh food to your herbivore pets, making it largely easy and inexpensive to care for a small pet well.
Balancing a dog's healthy diet with exercise
This one should be easy, because "walkies" must be up there with the first words any dog learns to recognise. But what about puppies, small dogs and elderly pooches? There are a plenty of games and exercises you and your dog can take at a pace that suits everyone and here's a list to get you started:
1. Run up and down hills, stairs, and in new locations
2. Try playing with a laser pointer (cats aren't the only animals that find it entrancing)
3. Try teaching a new trick—jumping a stick for a treat can be a good test of trust and bonding as well as a good workout
4. Have a pooch playdate, letting them socialise and wrestle (under your supervision)
Exercise for smaller animals
Some cats will need you to encourage exercise more than others, as "outdoor" cats have a much larger playground to work with. For indoor cats it's recommended you spend 10-15 minutes a few times each day engaging with your cat in some form of activity—some great ideas, such as setting up a climbing area or repurposing bags and boxes, can be found here.
For even smaller friends you have playpens, exercise balls and all kinds of toys to help them burn off excess steam. You can even make your own adventure playgrounds for them to run around in—just be extra careful with your health and safety policy.
Enjoying a full and healthy life with your beloved animals
Its heart-warming to see a pet that is a healthy and happy. It's not just a question of vet's bills or the aches and pains that come with elderly animals, but a case of knowing you have given your pets the best possible life, filled with happy memories for all the family.