Ski news from Salzburgerland in Austria 2015-16 Season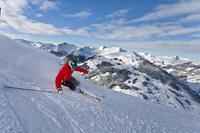 For a winter sports holiday the Austrian province of Salzburgerland ticks every box. Picturesque Alpine villages, 2500km of pistes, a friendly welcome and exceptional value for money on and off the slopes. Not forgetting the beautiful city of Salzburg itself, home of culture and good living.
Headlining the news from the ski areas this winter is the new 10-seat gondola lift, Tirol-S, opening on December 8 (official launch December 18), to link Salzburgerland's Skicircus (Saalbach/Hinterglemm/Leogang) to the Tyrolean resort of Fieberbrunn. The long-awaited lift opens up 270km of snowsport fun to take its place as the largest linked ski area in Austria and among the largest in Europe.
Access to Salzburgerland is easy. A wide choice of major airlines fly direct to Salzburg from the UK and the infrastructure is there to ensure quick and inexpensive transfers to the resorts, for a weekend break or a longer holiday. For keen piste bashers, the entire region can be explored using the Salzburg Super Ski Pass: prices from €414 per person / €207 per child, for full access to all 22 ski areas on 10 days (non-consecutive) if bought before December 3.
The main ski areas include Ski Amadé (Salzburger Sportwelt, Hochkönig, Gastein, Grossarltal and more), Skicircus (Saalbach, Hinterglemm, Leogang – linked to Fieberbrunn in Tirol), Zell am See-Kaprun, and independent resorts such as Obertauern, Rauris, Filzmoos and Werfenweng.
Ski Amade (skiamade.com): 6-day lift pass from €224 per adult and €112 per child

Gastein (gastein.com) opens December 5 to April 10 offering four key ski areas (Bad Gastein, Bad Hofgastein, Sportgastein – this area opens November 28 to May 2 if snow permits, Dorfgastein) and a link to skiing at Grossarl. The valley is as famous for its thermal healing waters as it is for magnificent varied skiing: 208km of pistes (2686m – 2840m) 66% with snow-making facilities, plus 3 exciting toboggan runs.

New for 2015: Bad Gastein launched a 300m zip-wire, Flying Waters for an exhilarating flight over the valley and gorge (€18.50pp for Gastein card holders, closed Saturdays) in the summer; on December 19 in Dorfgastein, the Smarthotel opens (smarthotel.at: rooms from €59.90pppn ½-board and after a significant investment Hotel Eden Rock re-opens in Bad Gastein (rooms from €59pppn B&B)

Package / Prices: for 7 nights and a 6-day lift pass, self-catered apartments from €419pp and hotels (2 sharing ½-board) from €655.50pp; 5-day ski school €259 per child inc. F&B; 1-hour ski lesson €55pp.

Sankt Johann im Pongau (sanktjohann.com) opens November 27 to April 10. The G-link connects the Flachau/Wagrain ski network to Alpendorf and Hahnbaum, Skt Johann's local slopes. With 120km of pistes for all abilities and skiing from 1980m, the area is ideal for families, especially Hahnbaum. There are 2 toboggan runs including a fun 3.5km course at Hahnbaum and the Betterpark is perfect for budding freestylers.

New for 2015: a new location for Betterpark at Hirschkogel; Geisterturm is a new panoramic viewing platform; enhanced snow-making facilities now cover 98% of the pistes; new attractions include the trio infernale (3 black runs: Hexenschuss, Habergeis-Ritt, Schlangengrube) and a speed track with photopoint

Package / Prices: For 7 nights and a 6-day lift pass, self-catered apartments from €350pp and hotels (2 sharing ½-board) from €552; 5-day ski school €195 per child; 1-hour ski lesson €67.

Altenmarkt (altenmarkt-zauchensee.at) opens December 4 to April 10. An attractive working village with its own ski area: 17km of gentle pistes (up to 1561m) including forest runs through Fichtelland (Kiddieland) and 2 toboggan runs: 6km from Radstadt-Konigslehen (floodlit) and 4.5km from Altenmarkt-Hochbifang. Also the ideal base for exploring the larger ski areas of Wagrain/Flachau and Zauchensee/Kleinarl.

New for 2015: Fichtelland – a forest adventure trail with mini-slalom and photo-wall has been enhanced this winter

Prices: 6-day lift pass €232.50/116.50 per adult/child; 5-day ski school from €185 per child; 1-hour ski lesson from €60.

Hochkonig (hochkoenig.at) opens December 8 to April 4 offering 120km of pistes linking Maria Alm, Dienten and Mülbach of which more than 90% have snow-making facilities. Skiing from 1900m at Aber-Langeck

News: a Vegan Ski package is new this season: priced from €422pp it includes 3 nights' ½-board (vegan options throughout) 3* accommodation, a 3-day lift pass, a vegan cookbook and 20% discount on equipment hire.

Package / Prices: Königs Week from €723pp for 7 nights ½-board in a 3* hotel including a 6-day lift pass and 20% discount on equipment hire: 6-day lift pass €241/120.50 pp/pc; 5-day ski school €212 per child; 2-hour ski lesson €130; 5-hours mountain guide from €55pp (minimum 5 pax).
Ski Circus (skicircus.at): 6-day lift pass from €245 per adult and €122.50 per child

Sallbach-Hinterglemm-Leogany-Fieberbrunn (saalbach.com) opens November 28 to April 10 offering 240km of pistes linking Saalbach, Hinterglemm and Leogang (skiing from 2100m) with the new extension to Fieberbrunn increasing the ski area to 270km: 90% of the slopes are snow-secure thanks to enhanced snow-making equipment and a new reservoir.

New for 2015: TirolS, a 10-seat gondola opens at the start of the season transporting up to 2600 people per hour between Reiterkogel at the heart of the Skicircus, via a middle station at Hörndlingergraben (near Pulvermacheralm) to Reckmoos-Süd in Tirol creating Austria's largest linked ski area; a new piste, 3.5km/780m veriticle drop, runs from Reiterkogel in the Vierstadalm area; a new 6-seat chairlift (heated/covered) replaces the Bernkogel T-Bar; Reservoir Polten (83700m²), an investment of €10.5m over 2 years, increases snowmaking capacity; a new Saalbach app is available this season; and, free WIFI hotspots have increased to 30.

Package / Prices: Ski Unlimited offers 7 nights' ½-board 3* hotel accommodation and a 6-day lift pass from €819 pp; 5-day ski school €224 pc; 2-hour ski lesson €136
Rauris (raurisertal.at): 6-day lift pass from €197.50 per adult and €94 per child

Rauris opens December 16 to April 3. A classic Alpine village, that grew up around gold mining, ideal for beginners with 32km of pistes and skiing from 2175m.

News: The Sonnblick Race, first run in 1894, is revived for the first time in 100 years at Rauris on March 26. Registration is open (sonnblickrennen.at offering two categories (pure ascent or uphill/downhill combi), prices from €45pp per race; from January 6 to 10 beginner courses and safety training in off-piste ski touring at Rauriser Hochalmbahn area. The Premium Hotel Alpina has been upgraded to a four-star hotel offering 3 nights' ½-board including a 2-day lift pass from €239 per person.

Package / Prices: Golden Winter Opener is a 3-day ½-board offer including a 2-day lift pass from €157pp (valid December 16-20); 5-day ski school €150pc; 1-hour ski lesson €49.
Obertauern (obertauern.com): 6-day lift pass from €197 per adult and €109 per child

Obertauern 'Austria's Snow Bowl', open from November 18 to May 1, is the highest resort in Salzburgerland (1740m) and has been a British favourite since before the Beatles stayed in 1965. Skiing is from 2313m over 100km of pistes of which 90% have snow-making. Lift passes valid for 1½ + days include the Grosseck-Speiereck area. A trip to Gnadenalm is worth the €5 taxi ride both for the fabulous food and the toboggan run (toboggan hire is €5).

News: Pizzeria Tauernglöckl is a new family restaurant open this season; 'iObertauern is a free, interactive, realtime resort guide app.

Package / Prices: Opening weeks from €509 for 7 nights B&B and a 6-day lift pass; powder snow weeks from €521 on the same basis through January: €217.50/109 pp/pc; 5-day ski school €196 pc; 1-hour ski lesson €62.
Zell am See-Kaprun (zellamsee-kaprun.com): 6-day lift pass from €240 per adult and €120 per child

Zell am See-Kaprun opens from the end of October to late July on the Kitzsteinhorn Glacier and from December 2015 to April 10 2016 across the entire resort. Offering 138km of pistes, 100% in the resort and 90% on the glacier enjoy advanced snow-making facilities.

News: the first casino in the resort, Casino Zell am See, opens January 1 in the Grand Hotel Zell am See. Situated on Lake Zell, the hotel has been completely refurbished for this season and also opens a new restaurant; the new Gletscherjet 3 & 4 gondola is open for a faster and more comfortable ride to the Kitzsteinhorn (3025m).

Package / Prices: Glacier Snow Okay from €593 pp for 7 nights ½-board, a 6-day lift pass and 6 days equipment hire for the price of 3-day B&B trips from €204 pp: €240/120 pp/pc; 5-day ski school €210 pc; 1-hour ski lesson €70.
All prices quoted are per person and subject to availability

Opening and closing dates are subject to snow conditions

salzburgerland.com