New tool shows the evolution of the cost of living Down Under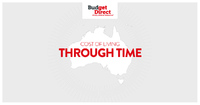 Whilst we may feel that our money is being stretched farther than ever with today's inflation rates, and despite the dwindling exchange rate of the Australian dollar against the British Pound it seems, in relation to their counterparts from the last 100 years, that Australians are actually doing pretty well for value for money.
Insurer Budget Direct looked at data and statistics from the last 100 years to see how much inflation has impacted the cost of living in Australia. Their interactive tool (www.budgetdirect.com.au/evolution-cost-of-living/) illustrates the changes in income and how this impacts upon housing, food and transport costs.
In 1910, the weekly income for the average Australian would have been equivalent to $197.86 (£93.21) today, whilst looking to the future, the average wage for the year 2030 is the equivalent of $2,815 (£1,325.94) a week! When this metric is used to explore how much the cost of living adapts and develops alongside increasing wages, it's clear to see that whilst everything may seem more expensive, the Aussies are actually doing okay for their money.
Whereas in 1910, nearly half of Australian wages were spent on rent, the portion of today's income that goes to rent is nearly halved, this is despite the fact that the average rental price Down Under has nearly tripled in context of today's prices for rent.
What about bread and butter? Bread's price has fluctuated drastically, currently at an average of $3.27 (£1.54) with its price likely to drop to a slightly more tangible price by 2030. Butter on the other hand, has taken a slow decline in price since 1910, when it cost an equivalent of a whopping $8.11 (£3.82) in today's terms, now just $2.50 (£1.18).
Brad Seymour, Budget Direct's Director of Partnerships and Communication, said: "When we're so caught up in the day-to-day spending, it's easy to feel like we're not getting value for money on our hard earned cash. The Cost of Living tool really illustrates how, as a generation, we're getting better value for money on many things."
For more insight into how hard our money has had to work over the last 100 years, take a look at Budget Direct's Cost of Living Through Time tool: www.budgetdirect.com.au/evolution-cost-of-living/.