British foodies put Italian cuisine on top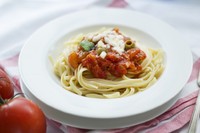 Spaghetti Bolognese has been voted the UK's favourite pasta dish in a new study.
Researchers found popular Italian dishes are now making their way to British dinner tables on a nightly basis.
And with World Pasta Day this Saturday 25th, results showed lasagne, carbonara and meatballs with tagliatelle are amongst the favourite pasta based meals regularly served up to families.
Despite an ongoing fondness for traditional British favourites such as fish and chips and a roast dinner, nine out of 10 families love a pasta based dish.
Households up and down the country will include classic Italian meals and those derived from staple pasta dishes, such as macaroni cheese, chicken and bacon penne, and pesto pasta as part of their weekly repertoire of meals.
While ravioli and cannelloni are also popular tea time favourites.
Indeed seven in 10 claim these Italian inspired choices are the only dishes enjoyed by every single member of the family.
A spokeswoman for Citalia, which carried out the poll of 2,000 adults in conjunction with World Pasta Day said: "For years Spaghetti Bolognese has been a classic dish that many of us have grown up with, but despite more sophisticated eating habits over the past few years and an abundance of newly created recipes from all over the world, the classic Italian Spaghetti Bolognese is still very much the nation's favourite.
"Italian inspired food is a firm favourite with families in particular, as it is generally easy to make, cost effective to cook and can be packed with fresh ingredients.
"Many British chefs champion Italian dishes because they are packed with nutrition, are generally crowd-pleasers and are easy to cook in bulk; they're great for busy households.
"As such, pasta is now more popular than ever with many household cooks putting a British spin on Italian classics and opting to serve up spaghetti bolognese (known more traditionally in Italy as ragù (alla) Bolognese, above the classic meat and two veg."
The study shows more than four in 10 people have visited Italy, and a resounding 94 per cent would love to go back.
Just over half of respondents like Italian food because it's easy to prepare, while 35 per cent enjoy cooking with fresh produce such as olive oil, tomatoes, garlic, dark leafy greens and whole grains.
Seven in 10 adults claim to cook most of their meal from scratch – rustling up a lasagne or carbonara from the bare ingredients.
And with half of Brits shunning any type of meal which takes longer than half an hour to make, this is a big thumbs up for Italian pasta based cuisine as people find it simple and quick to put together.
But while 68 per cent of adults believe they are fairly knowledgeable about food, they tend to stick to food groups they know and love when cooking for the family.
Despite there being over 350 different types of pasta to choose from, Brits are more likely to serve up penne or spaghetti than anything more exotic.
And regardless of their self-confessed love of pasta, Brits are baffled by some of the more recognisable shapes.
A third of adults couldn't identify penne, confusing it with fusilli and macaroni.
While one in six found it impossible to name spaghetti, selecting linguine and vermicelli instead.
Tagliatelle left Brits puzzled with only 63 per cent able to identify the classic long thin ribbons, and only a third of those polled recognised the distinctive Cannelloni tubes.
The spokeswoman for Citalia continues: "We all know that pasta can be an easy option, particularly for parents who are looking to serve up a nutritious meal, but who don't have much time to prepare the dinner.
"The great thing about pasta is its versatility – there are literally hundreds of dishes you can produce, simply by playing and tweaking with the ingredients from dish to dish.
"But it is amusing to note that while as a nation we love everything Italian, we don't know our penne from our paccheri, or our tagliatelle from our fettucine."
Top 10 Favourite Pasta Dishes:
1 Spaghetti Bolognese
2 Lasagne
3 Carbonara
4 Macaroni Cheese
5 Chicken and Bacon Pasta
6 Pesto Pasta
7 Meatballs and Tagliatelle
8 Pasta with Feta and Sun Dried Tomatoes
9 Cannelloni
10 Ravioli
To see Italian, Celebrity Chef, Gennaro Contaldo show how to cook an authentic Italian Spaghetti Bolognese with Tagliatelle (tagliatelle al ragù), visit youtube.com/watch?v=qdZEhkJcJe4