Dram & Smoke serving Scottish beer from Harviestoun Brewery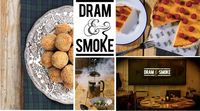 Following a sold out run in 2014, Scottish pop-up Dram & Smoke is returning to its former home in a leather tannery warehouse in London Bridge for four weeks this winter.
As usual with D&S, robust fare that's all about celebrating the best of Scottish produce will be served from an open kitchen alongside whisky cocktails, great beer and banging tunes in a suitably unique venue in the shadows of The Shard. A private house party vibe is the order of the day from the moment guests enter the vast candlelit space through a clandestine doorway just off Bermondsey Street and are welcomed with a warming hot toddy.
This time around, as well as a brand new five course menu, a slew of other fresh twists are in the mix as part of the £40 ticket. Ping pong, foosball and a host of other games will be available for those with fidgety feet and a competitive spirit. At the bar, guests will find a whisky cocktail menu courtesy of The Naked Grouse that ranges from punchy classics for the seasoned drinker through to lighter options for the uninitiated. A short but well-formed wine list is accompanied by craft beer from Scottish brewers Harviestoun Brewery who will be launching exclusive brews at the event, and serving limited edition beers soon to become extinct. The list includes new brew Raspy Engine (Harviestoun's Old Engine Oil infused with Scottish raspberries and crafted with a twist) and the very limited edition Ola Dubh 30 (Old Engine Oil aged in 30 year old Highland Park whiskey casks; this is an exceptional rare run with the last bottle due to be served at Dram & Smoke).
When it comes to the scran, things kick off in a typically tongue-in-cheek Highland style - Duck Donuts served with Irn Bru Chilli Jam. A turn of elegance brings proceedings to Potted Smoked Mushrooms, Dunsyre Blue Cheese & Homemade Pickles as well as shooters of intense Lobster Broth. Epic carve-at-the-table Roast Rack of Pork gets the Scottish treatment with a hit of Stornoway Black Pudding and is joined by chargrilled plums and buckets of crisp crackling (but veggies needn't fear - an alternative menu will be on hand by request). Finally, sharing trays of Whisky Bread & Butter Pudding with jugs of Malted Milk Custard bring things to a comforting close.
With food served up at large round 10-12 person tables (plus a banquet table for 20) D&S is all about getting stuck in and hanging out with your neighbours. However, for those searching for their very own slice of highland hospitality, Dram & Smoke is also available for private-hire throughout the festive season - that'll be Christmas soirées minus the floppy hats, stale ambiance and boring food then. Either way, this is the highland hideaway for great scran, free-flowing bevvy and a healthy dose of general flumgummerie this winter.