Viva La Revolucíon: a Musical New Year in Cuba!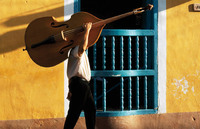 Songlines Music Travel has places on its 16-day small group Viva La Revolución trip to Cuba departing 30 December, which will celebrate all aspects of the vibrant music scene of the Caribbean island, and will be accompanied by Phil Sweeney, author of The Rough Guide to Cuban Music.
Cuba is one of the world's great musical destinations and the trip provides a chance to enjoy a New Year like no other; 1 January is also Cuba's National Day and, following the party in Havana, you will commence a musical tour of the island.

Throughout the itinerary there will be visits to bars, restaurants and other places to listen to bands with opportunities to meet musicians thanks to Songlines' extraordinary contacts.
Part of the itinerary will be dedicated to the Buene Vista Social Club phenomenon, visiting the key places and meeting the people who created the brand prior to its last world outing in 2014.
Cuban music is a mix of African and Spanish ingredients (from the slave population brought to the sugar and tobacco plantations and the Spanish colonisers). Of the original inhabitants, virtually nothing remains except the maracas and the adoption of the name of one of the tribes, Siboney, by the recording studios in Santiago, where son - Cuba's most infectious fusion of African and Latin ingredients - was born.
Highlights of the 16-day trip will include:
Three full days exploring Havana, including a walk along the Malecón, the Necropolis and the Capitol Building, a visit to the rum museum and the Museo de la Revolución and a delve into the music of the capital to pick up on the mix of son, salsa, hip-hop and reggaeton that drives the city's music scene
A flight to Santiago de Cuba with a city tour and evening visit to the Casa de la Trova which make the Calle Heredia a musical hotspot of Cuba
A journey to Manzanillo, rarely visited by tourists and home to three of the most important bands in eastern Cuba, stopping en route in the provincial capital Bayamo
Exploring Manzanillo's unique Moorish-influenced architecture and continuing the discovery of a music scene that the other musical tourists never see
The preserved UNESCO World Heritage site of Trinidad with a walking tour of the old town, and an exploration of the religious musics from Africa which are the basis of the Cuban cult of Santeria
Departing 30 December, the holiday costs from £1995 per person (two sharing) which includes 12 nights' B&B (plus two nights' HB in Trinidad), entry to selected music events, all sightseeing and transfers and the services of a Songlines Music Travel leader. Flights extra, bookable through Songlines.
All Songlines Music Travellers will receive an information sheet about the local music, plus recommended recordings and DVDs.
For more information, visit songlinesmusictravel.com.