Miller Homes' interior designer shares festive trimming up tips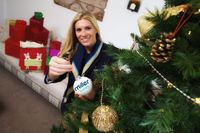 Decorating your home for the festive season has become so much more than a tree and some paper chains! It's a carefully planned, colour co-ordinated extravaganza, with winter themed and festive accessories paired together to create a winter wonderland at home.
Miller Homes, leading housebuilder with nine developments located across the region, has called on the expert guidance of interior designer Jeanette Holmes who has crafted many of their stunning showhomes, to give homeowners some festive ideas.
"Less is definitely more when it comes to Christmas decorations with simplicity often creating the most eye catching look," said Jeanette. "Opting for a colour theme can help keep you focused when overwhelmed with the array of decorations to choose from and, buying with a place to put it in mind rather than just because you like it can save lots of headaches later on."
Popular schemes this year include the strong influence of furs, stags heads and natural wood – which has been popular in general winter interiors already – shades of mink and champagne interspersed with foliage and berries, and a nod towards tradition with red and silver proving to be the 'in colours'.
"One of the most striking ways to decorate a tree is to have one that tells a story, so if you are just starting out with your Christmas collection you could consider buying decorations that you can add to each year, that will remind you of happy times," said Jeanette. "Or, for those that have limited space, wallhanging decorations such as stars and snowflakes make a welcome change from traditional wall art as well as a few candles and festive flora and fauna ensuring you don't miss out."
Several high street retailers and bespoke gift shops have themed collections meaning buying an eye catching collection has never been easier whether you want a simple wreath for the front door or a full interior scheme.
And, with just a matter of days to go before trimming up will become 'de rigeur' there is still time to find a brand new home to start 2016 off with a bang.
Miller Homes Yorkshire boasts a selection of stunning homes ranging from one bedroom apartments currently priced from £69,995 to five bedroom luxury homes priced up to £830,000 .
All developments across the region will be closed for the festive season from 25th December and reopen on Saturday 2nd January. Normal hours will apply at all other times. Further information can be found by visiting millerhomes.co.uk.