The year the world moved to Berlin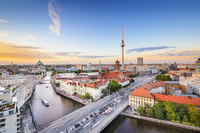 25 years ago, the world watched in wonder as the first pieces of the Berlin wall came down and the broken city began a long healing process to make it whole once more. Now, no longer content to view this vibrant city from afar, it seems the world has decided to move to Berlin!
The Berlin senate revealed over the summer of 2015 that the city's growth is double the rate that city planners had expected and prepared for. Berlin's population was expected to swell by 250,000 people between 2011 and 2030. Now, city planners believe that number will be added by 2019. In 2014 alone, the population grew by 44,700.
City development senator Andreas Geisel has described the growth as "a great blessing" but it has also put pressure on infrastructure, with the need for housing increasingly sharply as a result.
For owners of residential property in Berlin, the city's newfound popularity has led to some interesting developments. CBRE's Global living: A city by city guide reports that average values for apartment buildings have risen by 21% in a single year. Rents have also shot up, by 5.7% over the past year (compared with 3.6% nationally).
Ray Withers, CEO of specialist property investment company Property Frontiers, which is offering high specification buy-to-let apartments in the city at Stadtpark Steglitz from €153,670, comments,
"We're seeing some rapid shifts in Berlin's property market after almost two decades of very little activity. It's an exciting time to be part of the market there and property investors around the world are looking to Berlin as one of Europe's top residential real estate investment destinations. Berlin looks set to be one of Europe's most dominant cities during 2016 so far as residential investment is concerned."
As well as a vibrant arts scene and rapidly growing reputation as Europe's hottest start-up hub, Berlin offers a low cost of living compared to many European cities. Rents are less than a quarter of the price they are in London: around £405 in Berlin compared to £2,080 in the English capital, according to CBRE. At the same time, the city's economy is growing (CBRE cites projected growth of 2.6% for 2015) at a strong and sustainable pace.
With 81.2% of the city's population opting to rent their property (compared with 51.3% nationally) Berlin represents a huge opportunity for buy-to-let investors looking to pick up a residential investment in a European hotspot. The high spec apartments at Stadtpark Steglitz present the perfect opportunity, located in an affluent area of the south western part of the city, with up to 5.6% yield and excellent capital growth expected.
For further details, visit propertyfrontiers.com.