Radiator specialist investing for further success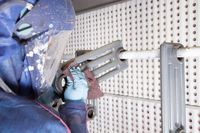 Grantham-based traditional radiator and bath company Trads is investing £40,000 in new lifting and testing equipment to meet growing demand for its cast iron radiators and improve product quality.
The specialist manufacturer is introducing two new one tonne cranes, enabling quicker and safer transportation of heavy cast iron sections and radiators around its production facility. A new water-filled testing tank will provide more rigorous product testing and improve quality.
A surge in business in the UK market during the past two years has prompted the purchases, as directors look to stay ahead of competitors, particularly those in China.
General manager, Brian Athey said: "Investing heavily in our production process will lead to significantly quicker and more importantly, safer output. There will be less manual handling and strenuous activity too. We'll be working safer and quicker, while at the same time improving our testing facility. Early estimates suggest that testing capacity alone will increase 400per cent on current levels as a direct result of this outlay."
"Lead times will decrease, enabling us to respond more flexibly to customer demand and our buyers will find it reassuring to learn that we are making our stringent testing even tougher. Our reputable range of products is set to get even better."
Manufacturing techniques, such as the double-paint preparation that is unique to Trads, the use of CAD drawings and efficient casting machinery is helping set the company apart from competitors with less of a focus on quality.
Brian added: "We have ultimate control of our radiators and are able to offer complete and bespoke options that can't be replicated by our competitors. Imported radiators can be presented with restrictions and problems if issues occur with sizing or the level of finish.
"Trads is dedicated to its tradition for quality and producing the best of British. As far as I'm aware we're the only company to paint its cast iron radiators before and after build, generating consistent coverage from every angle and giving a superior finish."
Designers at Trads' Grantham headquarters scour the world for inspiration, sourcing interesting and unusual castings, colourful character and breathing new life into some hidden gems from heritage at home and abroad.
"We love to tell the story of each radiator and reveal what makes each of them special," said Brian. "Our new Chelsea radiator is inspired by the antique heating system at Chelsea Barracks and is a prime example of how we like to call on the craftsmanship of the past. Such designs are often sought after by homeowners and specifiers seeking that classic touch."
Trads is part of the Carron manufacturing company, which has been a leading name in the heating industry for 15 years.
For more on Trads, visit tradscastironradiators.co.uk.