10 California beaches to visit in 2016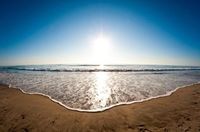 Here's a New Year's Resolution you will want to keep: enjoy more visits to the ocean. The combination of sand and surf where the land and sea meet makes for both relaxing ambiance and invigorating activities. Yet, even those of us who live close to the coast often forget the pure delight of a trip to the beach. Even in the midst of winter, the beach can offer a warm, refreshing respite to revive your chilly spirits. In 2016, you deserve a beach vacation — and California has the perfect sunny, sandy spots for you to break your winter blues.
1. Coronado Beach, San Diego
There is no beach more family-friendly than Coronado. With calm waves gentle enough for all ages, the ocean here is a fun place to swim, splash, and enjoy simple watersports. Plus, the beach is well-appointed with lifeguard stations, public facilities (including bathrooms), and even free parking, which most Californians recognize is a true luxury.
2. La Jolla Cove, San Diego
Dubbed the most photographed beach in San Diego, La Jolla Cove is breathtaking. Beneath a tall, rocky coast, the beach is small but stunning, with a colorful reef not far beyond the waves. Adventuring via kayak or flippers is encouraged; snorkeling and diving are common sports here, but because the waters are protected, other watersports, like surfing and bodyboarding, are prohibited.
3. Huntington Beach, Los Angeles
The original Surf City, U.S.A, Huntington Beach is consistently rated the best beach in the state — and not just by board-carrying beach-goers. Still, the inviting waves certainly are a major draw, and the U.S. Open of Surfing is hosted here every year, which can turn a regular day at the beach into a thrilling sporting event. However, hotels fill up fast during this time of year, so you may want to check Expedia.com or another site before you have to camp on the beach.
4. Santa Monica Beach, Los Angeles
Easily the most popular beach among native Angelinos, Santa Monica is equal parts enormous and entertaining. The beach is massive, providing plenty of space during busy summer weekends, and the pier offers all sorts of fun and games (and shopping) to keep active beach-goers busy. The roller coaster and Ferris wheel are not to be missed, as both provide an unforgettable view of the serene Pacific Ocean — especially at sunset.
5. Hermosa City Beach, Los Angeles
In a greater metropolitan area of more than 18 million people, it can be difficult to keep natural spaces looking pristine. However, Hermosa City Beach is famous for its sparkling-clean sand and debris-free water. Even better, the surrounding shops lack the kitschy feel of regular beachside merchants, and there are plenty of volleyball courts to go around.
6. East Beach, Santa Barbara
Bordered by palm trees — like all the best beaches should be — East Beach absolutely adopts the carefree, indulgent attitude of most Santa Barbara natives. Rarely packed, this beach is usually calm and quiet, which makes it the perfect place to relax after a long, stressful winter.
7. Cayucos State Beach, Cayucos
Few non-Californians have ever heard of this out-of-the-way beach paradise, and most would keep it that way. This hidden treasure is tucked just west of the Pacific Coast Highway (also called the PCH or Highway 1) in a beach town well-known for its calm, comfortable vibe and spectacular views.
8. Pfeiffer Beach, Big Sur
Another stop along the PCH, Big Sur was once famous for attracting budding writers and musicians, and today it remains an inspirational destination for its proud cultural history and exquisite shores. The bluffs surrounding the sand make Pfeiffer Beach feel secluded and secret, though in fact there is plenty of space for the late-summer crowds. Perhaps the biggest draw to Pfeiffer is the legendary Keyhole Rock, which is a one-of-a-kind photo opportunity at sunset.
9. Carmel Beach, Carmel-by-the-Sea
At first glance, this Monterey suburb seems like a sleepy, humble seaside village, but Carmel-by-the-Sea is secretly a vacation paradise. Carmel Beach, which directly abuts the town's beating heart of shops and restaurants, is a gem of the central coast. Though not nearly as active as some So-Cal beaches, Carmel offers levels of tranquility and luxury difficult to find on other sandy shores.
10. Point Lobos, Monterey
Those looking for a lazy beach day might be disappointed with Point Lobos State Reserve. Though the natural area does offer some outstanding seashores, most visitors come to this coast for the bounty of beautiful coastal hikes that give access to some of the most charming scenery on the West Coast — or around the world.