Game sales set to leap through the £100 million mark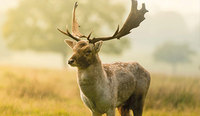 Sales of game meat in the UK expected to reach £106 million in 2015 as usage of venison has grown from from 13% to 17% over the last 12 months.
Whilst turkey is traditionally a firm favourite at Christmas time, it seems one of Britain's most traditional types of meat is enjoying something of a resurgence – game. Sales of game are flying high, as new research from Mintel finds the value of the game market has shot up by a third (33%) over the last five years alone. By the end of 2015, the game meat market is expected to leap through the £100 million mark to reach an impressive £106 million, up from £98 million in 2014. What's more, growth is expected to continue with sales forecast to reach £143 million by 2020.
It is venison which is the star performer in the market, fuelling growth in game meat. Indeed, usage of venison has increased from 13% to 17% over the last 12 months. While venison is proving to be the most popular game meat amongst today's Brits, less than one in 10 have eaten hare or rabbit (7%), boar (7%) or pheasant (7%) over the past six months. Meanwhile, Brits are less wild about other more exotic game such as quail (4%), partridge (4%), guinea fowl (4%) and grouse (3%), which have been used by under one in twenty consumers. Overall, one in four (24%) Brits has eaten game in the last six months.
While sales of game are enjoying strong growth, Mintel research shows there is scope to propel this growth further. Indeed some 41% of Brits say they have not eaten game in the past 6 months but would be interested in trying it in the future. What is more, half (51%) of poultry and game users say they would be interested in trying game meat which is ready to cook, ie in a tray with a seasoning/marinade, proving the significant potential the market holds. And it seems that for those existing users, game is seen as a sensible choice, with 56% of game eaters saying this meat is a healthier option than red meat.
Emma Clifford, Senior Food Analyst at Mintel, said: "While still small compared to poultry, the value of the game market has shot up by a third over the last five years. This growth is a testament to consumers being experimental with their in-home meals, as part of the growing 'foodie culture' in the UK. We see consumers looking to expand their repertoires beyond the standard meat and poultry products which are cornerstones of British meal times. Rising interest in scratch cooking and growing confidence in the kitchen is likely to be encouraging more people to branch out to different dishes, and perhaps recreate some which they have enjoyed in restaurants. Exposure of game from TV chefs such as Gordon Ramsay and Jamie Oliver is also helping to boost awareness of cooking with game and this is feeding through into sales."
Preparing meals for seasonal occasions more likely to be stressful than fun
New research from Mintel has found that whoever is cooking this Christmas may be feeling the pressure. Preparing meals for seasonal occasions such as Christmas lunch can be a stressful affair, with more than one third (36%) of all Brits complaining about stress levels whilst preparing these meals. In many cases where women are likely to have the main responsibility for cooking/preparing meals at home, this rises to 42% of women and falls to 30% of men.
Mintel research also indicates that meal preparation can bring with it a dash of guilt, as one quarter (26%) of consumers say they would feel guilty if they didn't cook special-occasion meals from scratch, rising to 43% of female over-65s.
While 30% of all Brits believe that cooking meals on seasonal occasions is a fun activity for the family, cooking a seasonal meal holds limited appeal for one quarter (25%) of consumers who say they would rather spend time with their family than cooking on seasonal occasions.
"The pressure of cooking for more people than usual and perhaps cooking more difficult meals or meals that people have less experience in cooking regularly gets to many people. Getting the timings right for Christmas dinner is notoriously hard. Any steps retailers or brands can take to remove some of the stress from cooking and provide a helping hand – yet without being seen as cheat options – are likely to be warmly received. Step-by-step guides, suggestions for shortcuts and advice on what foods can be prepared in advance could appeal, as well as handy tools, for example a meat thermometer to help ensure the turkey is cooked to perfection." Emma concludes.