Portugal's world-beating golf courses keep the country's property market at the top of the table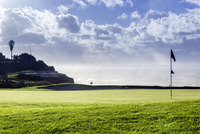 Portugal's Algarve is blessed not only with stunning beaches and almost year-round sunshine, but also with some of the world's leading golf courses. In fact, the World Golf Awards Gala Ceremony in late 2015 crowned Portugal the World's Best Golf Destination for the second year running.
Held over three days, the prestigious ceremony allowed guests to enjoy use of Portugal's Quinta do Lago golf resort. Known for its stunning courses and immaculate golfing villas, such as this stylish five bed contemporary property with its own pool, Quinta do Lago also benefits from an excellent array of glamorous bars and restaurants and high end boutique stores, as well as a lush natural environment.
Former Dragon's Den star and keen golfer Duncan Bannatyne is one of those who have opted to take their love of the game seriously by purchasing a golf property in Portugal. Last year he purchased an idyllic five bedroom villa with pool and sea views in the upscale golfing haven of Vale do Lobo. The resort's proximity to Faro airport, its relaxing atmosphere and the nearby pristine sandy beaches were all influential factors in Bannatyne's choice of property, as well as Vale do Lobo's award-winning golf course.
His associate Chris White, Founding Director of Ideal Homes Portugal, comments on the resorts' enduring popularity,
"Quinta do Lago and Vale do Lobo epitomise the natural beauty and the challenging nature of Portugal's many excellent golf courses. It's one of the country's most well-known resorts and is a huge draw for golf tourists from around the world. Naturally, property at Quinta do Lago is highly sought after, but there are some fabulous options spread out across the Algarve for those who love the fairways. São Lourenço near Almancil is one of my personal favourites."
A four bedroom villa with swimming pool and 9,000m2 of private grounds in São Lourenço, enjoying views over Laranjal golf course, can be bought for €1,995,000.
Portugal is certainly not alone in benefitting from a rise in golf tourism. According to KPMG's report on Golf Tourism Growth Trends, 80% of golf tour operators experienced an increase in bookings during 2014. The report highlights the popularity of Portugal and Spain for golf tourism, as well as mentioning the ongoing prominence of well established destinations like the US.
Ideal Homes Portugal's Chris White comments, "The impact of golf tourism on Portugal's property market is not to be underestimated. We saw a significant growth in demand for golf properties during 2015, with buyers seeking out luxurious residences that are perfectly placed to allow them to enjoy their golfing holidays to the full.
"Nor is it just Portugal that is enjoying this trend – our sister company Ideal Homes International has experienced strong interest from golfers in properties in Spain and Florida over the past 12 months."
With the pound continuing to hold strong against the euro, both Portugal and Spain offer excellent value for money for holiday home buyers. The booming golf tourism sector is on track to continue driving forward the property market in both countries, as overseas buyers flock to pick up the perfect golf property while the exchange rate means they can get significantly more for their money.
For further details, visit idealhomesportugal.com.