Five hotels to break your New Year's resolutions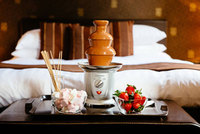 January is always a tough month, with the Christmas festivities over and New Year's resolutions in full swing. But… what if you could treat yourself, one last time, before you start that new fitness regime? To provide some much need distraction, hotel search website trivago.co.uk has compiled a list of our favourite hotels that'll help you break your New Year's resolution in style. From a one kilogram steak to a chocolate-themed hotel and a more than impressive cigar selection, give in to temptation in any one of these UK-based hotels.
1 The Chocolate Boutique, Bournemouth
The Chocolate Boutique Hotel is found nestled in Bournemouth's fashionable Soho Quarter and is a haven for chocoholics. Whether you like your chocolate melted, white or dark, there's all sorts here to keep you happy. Guests can stay in sumptuous surroundings, with each room decorated in its very own chocolate theme – complete with rich brown and golden colours. Upon arrival, visitors can treat themselves to chocolate-covered strawberries, sample a chocolate cocktail or simply give in to temptation with the hotel's chocolate fountain.
2 Strand Palace Hotel, London
Aside from offering stylish accommodation in the heart of London, the Strand Palace Hotel also serves authentic Indian cuisine in their charming restaurant. Your local Indian restaurant always suffers in January when the majority of us swear off takeaways for the forcible future. But if you're still craving a chicken Korma with a side of Naan bread, pay a visit to Daawat and sample some expertly-cooked traditional Indian fare. Using only the freshest local ingredients, the chefs have recreated a range of delightful dishes that capture the essence and flavours of India.
3 Marriott London County Hall, London
With your New Year's diet already abandoned, it's time to put down the fork, step away from the salad and visit Gillray's Steakhouse & Bar, which is located in the Marriott London County Hall's hotel. The renowned restaurant boasts an enormous 1kg steak on the menu called the 'Bull's Head'. This perfectly cooked steak would challenge the most diligent of carnivores and if you're still hungry after that feast, why not try the delicious home-made sticky toffee pudding?
4 Pentahotel, Birmingham
You had great plans for Dry January… we know, we all did, but January is tough enough without being able to enjoy a sneaky tipple. If you plan on visiting Birmingham in 2016, make sure to stop by the Pentahotel's chic bar and lounge. The bar décor is reminiscent of an Old Boys Club and boasts a cosy feel with deep-seated leather chairs, dark-wood furniture, mood lighting and a beautifully crafted pool table and is the ideal setting to enjoy a glass of wine.
5 The Wellesley, London
The Wellesley offers luxurious five-star accommodation in the centre of Knightsbridge and is a stone's throw from London's prime tourist attractions. Behind the hotel's understated façade, guests are treated to elegant art-deco inspired interior design and lavish high-end furnishings. The Wellesley's unique Cigar Terrace truly sets it apart from other London hotels. Cigar connoisseurs can enjoy a selection of the world's finest cigars including a Montecristo, a Cohiba or even a limited edition Bolivar in stunning surroundings.
For more information on any of the hotels mentioned, visit trivago.co.uk.