The sunshine safe haven - why UK buyers can't get enough of Portuguese property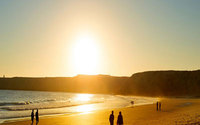 The tragic events in the resorts of Tunisia and Egypt over the past year have rocked the foundations of holidaymakers around the world, so much so that UK travellers now consider safety and security to be the most important factor when it comes to booking their holiday destination. The changing shape of holidays has been revealed by a survey from TravelZoo, where 30% of respondents rated this as their number one priority.
One of Europe's safest and most popular summer holiday destinations is Portugal, as resident Chris White, Founding Director of Ideal Homes Portugal, explains,
"Portugal offers a real safe haven for UK holidaymakers. The country lacks the political tensions that exist between many nations and instead offers a wholesome, family environment that is perfect for those looking for sunshine, beaches, water parks and a great Mediterranean diet."
Portugal is one of the destinations flagged up by TravelZoo as enjoying a rise in bookings as holidaymakers' priorities shift. Of course, finances are still a big consideration for many families when it comes to holiday destinations, which is another of Portugal's advantages – it is one of the best value destinations in Europe. In fact, the Algarve is Europe's cheapest beach resort, according to the Post Office Worldwide Holiday Costs Barometer 2015, and the second best value destination globally.
One item that offers excellent value for money in Portugal is property. From a two bedroom apartment with sea views in Albufeira for €110,000 to a stunning three bedroom country retreat complete with swimming pool and grounds including two lakes for €650,000, the sun-kissed country offers bargains to suit every budget.
The stability of Portugal's housing market offers further reassurance to holiday home buyers looking for a safe haven in the sunshine. The January 2016 Portuguese Housing Market Survey from RICS/Ci observes that price expectations point to steady gains over the course of 2016, with house price inflation expected to be around 2.5% in both Lisbon and the Algarve.
Portugal's proximity to the UK is another important factor when it comes to those booking holidays or looking for a second home in a safe haven overseas. Frank Brehany of HolidayTravelWatch observes,
"Given the awful events in 2015, it is no surprise to me that UK holidaymakers will want to experience less of the exotic and more of the familiar, feeling more secure if they holiday closer to home; it's a natural consequence of last year."
With Portugal ticking so many boxes – safe, sunny, fabulous beaches, stunning golf courses, low cost of living and just a short flight from the UK – it's easy to see why many holidaymakers this year will be sunning themselves on the beaches of the Algarve, rather than heading further afield.
For further details, visit idealhomesportugal.com.