Take your garden to the next level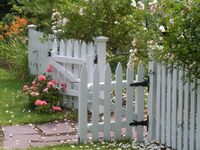 Spring is in full force, and that means it's gardening season in much of the UK. Even without considering planting, this is a great time of year to get out in the yard or garden and tidy things up, organise, and generally improve the layout. And if you're an avid home gardener, you're always looking for new and interesting ways to make things look nicer and more inviting.
For the most part, such efforts come down to your own initiative and creativity. But as we head further into the spring and summer seasons, here's a look at four different tools and appliances you can collect to help you in your effort to take your gardening to new heights!
1. Rain Barrels
Rain barrels aren't necessarily the most attractive additions to your yard or garden. However, if you can find an out-of-the-way position for them, such as on the back wall of the house or behind a workshop or toolshed, they can be incredibly valuable. As ViralNova pointed out in the midst of a wonderful countdown of DIY gardening ideas, rain barrels help you to repurpose natural water, and they're actually pretty easy to make on your own. It's inventive, environmentally responsible, and in some cases even more convenient, as it cuts down on your time lugging a hose all over the yard.
2. EasyBloom Sensor
If you thought technology couldn't impact your garden, think again. Listing 10 essential tools for a great garden, Treehugger pointed to this fun little device that essentially helps you to collect data on how a given area will accommodate plants. You simply stick it in the ground for a few days as it collects information about how much sun and water it's getting, and then you remove it, plug it into a USB drive, and receive recommendations online about what to plant in the area the sensor briefly inhabited. It's a wonderful tool for beginners, but a lot of fun for experienced gardeners as well.
3. Bandsaw
A bandsaw doesn't typically fall under the category of essential home tools, but for some bigger woodworking garden projects, such as constructing a fence, an herb box, a vertical planting apparatus, or even a decorative sculpture, it can be incredibly helpful. As Screwfix explains, a heavy-duty saw like this is perfect for a lot of the jobs a normal handsaw just can't manage with ease. For instance, a bandsaw can cut through materials harder than wood, and it can also be manipulated to cut curves and other shapes that are tricky to do by hand. It's really a perfect tool for anyone considering making a garden fence.
4. Cinder Blocks
Finally, stepping aside from tools and accessories, you may also consider something as simple as a pile of cinder blocks as a means of enhancing your garden this spring. A lot of people have discovered that these building materials are actually perfect for lining borders of gardens or paths, because you can actually grow plants in the holes in them! Pinterest has a lot of inspiration for different ways to go about this, and you may be surprised how nice it can look.
By stocking up on some tools and materials like these, you can truly take your garden to the next level this spring. And as with most involved gardening efforts, you'll probably have a great time doing it.