DVLA Personalised Registrations gears up for second sale of 2016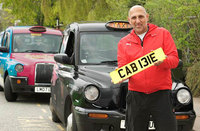 DVLA Personalised Registrations will be aiming to surpass its recent run of record-breaking fortunes when its second live sale of 2016 gets underway at The Oxford Belfry Hotel this week.
The Agency will be hoping to secure its first ever complete sell out when 1,500 personalised registrations go under the auctioneers' hammer at the Oxfordshire venue over the course of three days from Wednesday, May 18.
And the signs are looking favourable. Such is the continued rise in popularity for personalised registrations, during the first auction of the year held in February all but three lots were sold – ensuring that for its third successive live auction, its sales conversion surpassed 99 per cent – and in doing so recorded sales in excess of £5.3 million for its second successive live auction.
For the supercar owners, the DVLA has assembled a raft of Ferrari-related registrations such as F458 FUN (reserve £250), F488 GTS (£250) and 488 T (£2,500), there's also a couple related to McLaren cars such as the 570 MCL (£1,200) and MCL 540C (£250). For the legendary Honda NSX there's 2 NSX (£400) and 918 S (£2,500) would sit perfectly on a Porsche 918 hybrid hypercar.
As usual, the DVLA has brought together a raft of 'fun' personalised registrations such as EYE 820W (£250), BAR 811E (£250), CAB 131E (£250), 64 MER (£1,200) and P455 BYE (£250) that sit alongside a variety of 'names' such as BER 711E (£250), BL14 AKE (£400), F415 SAL (£250), L154 COX (£250) and WR16 HTS (£700).
Adam Griffiths, of DVLA Personalised Registrations, said: "We have experienced a record-breaking run of sales over the last 18 months or so, success that continued with our first auction of 2016 when all but three lots were sold.
"We've carefully put together another blend of personalised registrations to suit all tastes and, above all, budgets. This, combined with the ever-growing trend in popularity the public have with personalised registrations, we are extremely confident that our run of successful sales will continue at The Oxford Belfry. Who knows, but this could be our first sale whereby every lot is sold."
DVLA Personalised Registrations' forthcoming auction will consist of a total of 1,600 registrations, all chosen to offer a selection to suit all tastes, styles and budgets including: 56 A (reserve - £2,500), AB11 BEY (£400), APR 11X (£300),A412 FER (£250), BR11 ADY (£400), BUY 81G (£300), 54 CHS (£1,200), COS 74A (£300), CY13 ORG (£700), DEB 1X (£500), DOR 15A (£300) DUK 47Y (£300), DY14 LAN (£400), 848 E (£2,500), EGO 81G (£300), ELL 4H (£350), EV14 ANS (£400), FER 458T (£250), F24 NNY (£250), F41 THB (£250), GE13 MMA (£400), H411 EMS (£250), IG 99 (£2,200), 750 JET (£1,200), 250 JK (£2,200), 75 KAY (£1,200), 800 KG (£2,200), KR15 TEL (£700), K412 MEN (£250), 54 LSA (£1,250), 70 NGA (£1,200), NOA 1H (£500), 250 OMG (£1,200), PET 120L (£250), PHA 240H (£250), P011 PPY (£400), RAF 1X (£500), REG 911E (£250), STU 422T (£250), 247 TOW (£1,500), 321 USA (£1,200), 21 VER (£1,200), 111 WAG (£1,200), W412 MER (£250), 101 X (£2,500), 2 YES (£1,200), Y011 UNG (£400).