EU referendum-inspired dresses spotted at Royal Ascot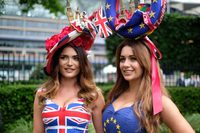 Stunning Holly Peers, 29, wore a 'Remain' hat featuring an Eiffel Tower, Brandenburg Gate and flags of European countries.
Her pal India Reynolds, 25, wearing a figure-hugging Union Jack dress, favoured a Brexit bonnet, complete with Big Ben, corgi, Nelson's Column and English roses.
India, from Reading, said: "We've both had a lot of comments from punters but most people have said that I'm the one that's going to get the vote.
"Most people that have come up to us have said they are going to vote Brexit."
Holly, who is from Manchester and wore a dress version of the EU flag, added: "I think we're both still undecided when it comes to the vote itself."
Alex Donohue from Ladbrokes, which commissioned the topical titfers, said: "We're in the final furlong and leave is making up ground rapidly. The odds suggest this one is going to a photo finish."