Parents put good schools on their moving timetable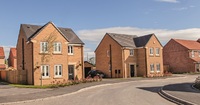 Good schools remain a priority for parents choosing a new home, with families in the UK paying over the odds to be close to a top performing school – a recent report suggests.
Mums and dads wanting to give their children the best educational start possible are paying almost £44,000 extra for a home in a good primary school area, ensuring that they are in the catchment area for the crucial first years of learning.
According to the research (by online estate agents HouseSimple) the average premium paid to be close the top 50 state funded schools that received the highest Ofsted ranking is £43,773.
And with new homes across East Riding, North, South and West Yorkshire in areas with excellent educational facilities, Linden Homes can go straight to the top of the class when offering a choice of developments with great schools nearby.
Linden Homes North sales director Steve Woomble said: "We recognise the huge importance parents place on education and choosing the right school for their child, and this accounts for a high volume of our inquiries – evidence that the positioning of our developments are carefully thought out with our customers' their families' needs in mind."
He added: "Far from paying a premium for the homes, we can help curb the cost of moving, even if you are an existing homeowner, through a number of incentives."
Part exchange - Linden Homes will arrange for at least three independent valuations of your existing home and will make you an offer based on their suggestions. Once you agree the offer, and subject to satisfactory surveys, Linden Homes becomes your cash buyer, freeing you up to place your reservation on your new home. You can stay in your old home until your new one is ready to move in to. After that, it's a case of setting a moving-in date, boxing up your things, and basking in the relief of a quick chain-free move to the home of your dreams

Help to Buy – customers require a minimum five per cent deposit. The government will lend you up to 20 per cent of the value of your property through an equity loan, which can be repaid at any time or on the sale of your home. Buyers will only need to secure up to a 75 per cent mortgage from a bank or building society. The maximum home purchase is £600,000.
Assisted Move – works in a similar way to part exchange. Linden will arrange for independent valuations of your current property, based on finding a buyer within a specified selling period and suggest a realistic selling price based on these valuations. An estate agent is instructed on your behalf to sell your existing home within a pre-agreed timescale. Linden will work closely with the agents to ensure your home is frequently advertised and all viewings are followed up. You will be regularly updated on the progress to maximise its sales potential. Once you have found your buyer you can reserve your new home and Linden homes pays your estate agent fees.

For details of where Linden Homes is building, visit lindenhomes.co.uk.