It's game, set and match to the Algarve as Portugal's popularity booms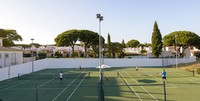 The grass is being manicured, the outfits pressed and the racquets strung as the UK prepares to be gripped by Wimbledon fever once more. Every year, The Championships, Wimbledon, showcase the world's best tennis in a setting that is one of the most recognisably and traditionally English events of the year.
It's not just the professionals who are getting excited as the Wimbledon Championships approach. Interest in properties with tennis courts always surges at this time of year, even overseas, as Chris White, Founding Director of boutique Algarve estate agency Ideal Homes Portugal, explains,
"We see a lot of excitement from buyers about homes in the Algarve sunshine that include their own tennis courts or are near to tennis centres and academies at this time of year. The Algarve's 300 days of sunshine per year mean that it's a great place to practice the sport, with a long season that's perfect for honing your skills."
Portugal has just been revealed as the overseas destination that is most swiftly increasing in popularity when it comes to bookings made through UK travel agents. According to the ABTA travel association, bookings to Portugal have risen by 29%, beating Spain's 26% rise and Cyprus' 18%.
Former Dragon's Den star Duncan Bannatyne and his fellow Dragon Peter Jones are both keen tennis players who recently enjoyed a week of sharpening their on-court skills at the tennis centre in Portugal. The visited the Val de Lobo resort, best known for its stunning golf courses, but also boasting top quality tennis facilities. More than one international tennis star owns a home in the area.
Duncan Bannatyne purchased his own dream Algarve villa through Ideal Homes Portugal in 2014. Those looking to do the same – and to take advantage of the area's fantastic tennis amenities – have a wide range of options available to them.
At Alcantarilha, near Silves, a luxurious four bedroom villa with private gardens, infinity pool, BBQ and terraces costs €997,400. The prestigious golfing development on which it is located includes not just two championship golf courses and a gold academy, but also six tennis courts, a sports club and a clubhouse bar.
At the world-renowned golfing haven of Quinta do Lago, this spacious villa with panoramic views and lovely heated pool and terrace area is just a short walk from Jim Stewart's tennis centre. On the market for €1,995,000, it would make an ideal first or second home for those who are keen to enjoy easy access to a top class tennis academy.
But for those who are really serious about their love of tennis, it has to be this five bedroom luxury villa in Carvoeiro, complete with its own on-site tennis court. Incredibly reasonably priced for a villa of this quality (the asking price is €1,200,000), the villa boasts sea views, covered barbecue area, heated pool, mature garden with automated irrigation, underfloor heating, electric gates and plentiful terraces and balconies. That's game, set and match for those looking for an ultra luxurious Algarve property in which to pursue their passion for tennis!
For more information, visit idealhomesportugal.com.