Beaches, booze and barbecues: The recipe for the perfect summer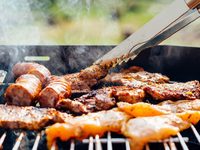 Six barbecues, nine days sunbathing, three packets of hayfever tablets and two jugs of Pimm's - those are the ingredients of the typical British summer, according to new research.
A survey of 2,000 homeowners has placed plenty of sunny weather at the top of our summer priority list, followed by dining alfresco with family and friends and making the most of our time outdoors.
Blustery gales and persistent showers have done little to diminish our enthusiasm for outdoor activities, with one festival, two theme park visits and five days on the beach making the summer to-do list.
And that's not all. We can also expect to go through two jugs of Pimm's, three packs of hay fever tablets and 18 salads before autumn sets in and the cold weather returns.
A spokesperson for Homebase, which commissioned the survey, said: "For Brits, summer is all about getting outdoors and enjoying the activities not usually open to us in the colder months.
"For most, that means firing up the barbecue, inviting friends and family over and relaxing in the garden with a burger or two."
Barbecue-bonkers Brits will host three grilling get-togethers of their own over the summer months and will be invited to three more by friends and family.
And while a fifth prefer to don the apron and spatula at their own gathering, 45% would rather attend someone else's barbecue and save on the effort.
Almost a third of Brits think that the perfect summer's day isn't complete without a barbecue, while 30% would prefer to head to the beach.
The summer ahead will also involve seven days holiday from work, five nights out with friends and one day playing host at a garden party, according to the research.
For 80 per cent of green-fingered garden enthusiasts, the warmer weather gives us a greater opportunity to get out in the garden and tackle some much-needed weeding and preening.
With regards to the summer sporting calendar, one in two respondents have tuned into the UEFA Euro tournament, while 42 per cent are counting down to the Rio Olympic Games.
Wimbledon (41%) and the Formula 1 Grand Prix Season (23%) also appeared highly in the summer sporting events countdown.
A spokesperson from Homebase continued: "For all the ice-cream and sun cream that summer brings, it's encouraging to see so many Brits using the warmer weather to make improvements to their home and garden.
"Summer is the perfect time to show off your outdoor space, whether it's lunch with a few close friends or a full-on gazebo-and-bunting affair with the neighbourhood.
"From gardening tools to barbecues, Homebase has everything you need to make this summer a sizzler."
Top 10 best things about summer
1. Warmer weather
2. Longer days
3. Barbecues
4. Spending more time outdoors
5. Working from the garden
6. Flying abroad
7. Family trips away from home
8. Visiting the beach
9. Taking time off of work
10. Scenic walks