New ST200 to headline Fiesta 40th anniversary event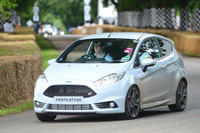 The new Ford Fiesta ST200 will be one of the stars of a 40-car convoy celebrating four decades of the Blue Oval's famous supermini.
The 40th anniversary run is part of the Ford Summer Festival, a brand new event celebrating Britain's most popular car marque, which is set to take place at Brighton Racecourse, East Sussex, on Saturday July 16, 2016.
Organised by the team behind Fast Ford, Classic Ford, Fast Car and Retro Cars magazines, the event will start with a themed run from Ford's traditional UK home in Dagenham to the famous resort.
Heading up the convoy will be a special selection of 40 Ford Fiestas to mark the car's milestone birthday, many of which are from Ford's own collection or affiliated owners clubs. These include a variety of Mk 1s, including a Crayford 'Fly' Convertible, a Mk 1 Van and an XR2, a whole range of Fiesta Mk 2s from the humble Popular Plus to the range-topping XR2, the 10-millionth Fiesta off the Dagenham production line, a one-off road legal rally car, a customised Fiesta ST camera car built by Ford's press and PR department and the eagerly-awaited ST200, which made its UK debut at last weekend's Goodwood Festival of Speed.
Event manager, Katherine Chappell, said: "What a great way for Ford to celebrate the Fiesta's 40th birthday, by launching the fastest and most entertaining Fiesta ever. It's the perfect partner for our event, as it's fun, lively and celebrates everything that is great about Britain's most popular small car."
As well as the run, the Ford Summer Festival will feature club and individual displays, a retail area and a live entertainment stage, with a selection of live music acts throughout the day and well into the evening, along with the chance to enter a competition to win a modified Ford Focus ST. Overnight camping will be available and is included within the ticket cost for all those taking part in the run, helping to keep the festival atmosphere going as the sun goes down.
The Festival is open from 11am to 11pm and entry tickets cost £10 in advance* (£15 on the day). For those wanting to take part in the run, entry costs £60 and includes a breakfast voucher, rally plaque, camping for two people and two free drinks.
The Ford Summer Festival is just one of a series of high profile Ford events organised by the Fast Car Entertainment team. Other events include Ford Fair, Ford Fest, The Classic Ford Show and The International Ford Show. To buy tickets, take part in the run or find out more about the Festival, visit fordsummerfestival.co.uk.
*booking fee applies