What's new in Santa Barbara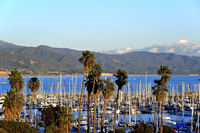 When fall arrives on the Santa Barbara South Coast, thoughts turn to harvest time and festive gatherings with family and friends. Grapes have ripened and are ready for plucking, and the abundance is celebrated with food- and libation-centric festivals.
With a recent flurry of restaurant, eatery and taproom openings in the region, there's plenty to feast on. Read on for more about the newest hot spots, as well as tours, a bike tourism website, sparkling wine map, arts festivals and more.
Located just 92 miles north of Los Angeles, dreamy Santa Barbara is easy to get to — and difficult to leave, as visitors soon find they'll need more than a day to experience everything the region has to offer.
Activities & Events:
Fall epicurean festivals run September through October
It's that time of year to head to Santa Barbara with a growl in the belly and thirst for discovery, as fall marks the prime season for food and libations festivals. The 25th Annual California Lemon Festival kicks things off on Sept. 24 and 25, followed by the Santa Barbara Harbor & Seafood Festival Oct. 15, Celebration of Harvest Weekend Oct. 7 to 10, Santa Barbara Beer Festival Oct. 15 and the Santa Barbara Chowder Festival Oct. 16. Visit Santa Barbara's website, SantaBarbaraCA.com, for more information on these and other timely happenings.
Los Alamos 70th annual Old Days Celebration Sept. 23 to 25
In recent years, Los Alamos has become a must-see road-trip destination for food and libations lovers. But long before Instagrammers snapped photos of their foodie finds, this rustic town drew people from throughout the region with its annual Old Days Celebration. This year for the 70th annual Old Days, Sept. 23 to 25, why not marry new tastes and pleasures with good old-fashioned entertainment? Make a beeline for Bob's Well Bread Bakery for a hearty breakfast and artisanal bread, then head over to the Civil War encampment at the 1880 Union Hotel, classic car show, peddlers mart, tri-tip barbecue dinner and more. Bob's: https://www.bobswellbread.com/ Old Days: http://losalamosvalleyolddays.com/
Santa Barbara 100 cycling event returns Oct. 22
The world-class Santa Barbara 100 is back for the second year and better than ever. Featuring one of the most challenging 100-mile courses in the U.S. with a timed trial up Gibraltar Road (included in the 2016 Amgen Tour of California), the event takes riders through some of Santa Barbara's most beautiful and picturesque landscapes. A 34-mile beginner's course gives cyclists a taste of what the region has to offer. The nonprofit race donates all proceeds to local charities. http://www.sb100.org/
Hotels
Santa Barbara Inn reopens after major renovation
The Santa Barbara Inn reopened over the summer after a multi-year renovation. Located along ocean-facing Cabrillo Boulevard, the hotel features 70 deluxe guest rooms and suites, each with its own balcony overlooking the Pacific Ocean. A new conference and 1,200-square-foot banquet room creates space for meetings, events and social gatherings accommodating up to 80 guests. A new restaurant, Convivo (see below), serves Italian fare. Additional amenities include a new fitness center, pool and spa and complimentary breakfast. http://www.santabarbarainn.com/
Transportation, Tours And Tourism
New bicycle tourism site takes off
A new website and mobile app hosted by Cycle California Coast, CycleCalCoast.com, showcases Santa Barbara and Ventura counties as premier bike tourism destinations for international and national cycling enthusiasts. The platforms will feature prime bike routes and trails, beginning with the "Grand Loop," an epic 150-mile route connecting the two communities that includes some of the most breathtaking stretches of coastline in the area. With its temperate climate, scenic landscapes and variety of challenges, the region is ideal for both amateur and professional cyclists. The platforms will also link to bike-friendly businesses and highlight events, such as the AMGEN Tour of California.
Sip & Sail Tour by Santa Barbara Coastal Concierge
Premier wine touring company Santa Barbara Coastal Concierge has teamed up with Santa Barbara Sailing Center to offer a new Sip & Sail Tour package. Participants begin the tour by leisurely tasting some of Santa Barbara County's finest wines at stops throughout the downtown Urban Wine Trail. Then they set sail on a two-hour guided cruise through the Santa Barbara Channel aboard a private chartered yacht. Includes a gourmet lunch and bottle of sparkling wine. More on the package here: https://www.sbcoastalconcierge.com/tours/sip-sail-tour/
Bikes and Beverages Tour of Santa Barbara
Cal Coast Adventures has launched a new Bikes and Beverages private tour of Santa Barbara's bustling wine and beer scene. The tour explores local wineries and craft breweries via bicycle from downtown through the Funk Zone, including all the local favorite stops. The bike tour guide will also give a behind-the-scenes look at a couple of wineries and breweries along the way. http://bit.ly/2bWwNjn
Food
Bacara Resort & Spa opens signature restaurant Angel Oak
Angel Oak, the new signature restaurant of Bacara Resort & Spa, opened this summer, with Executive Chef Vincent Lesage at the helm. The oceanfront restaurant celebrates reimagined steakhouse offerings along with refined seafood dishes, crafted by Lesage, a classically trained chef who worked at Michelin-starred restaurant L'Astrance in Paris. With ceiling-to-floor windows and panoramic views, the 162-seat restaurant's exquisite décor includes large, living bonsai and a 25-seat bar top made from a striking blue Amazonite quartz. http://angeloaksb.com/
Loquita brings Spanish flair to the Funk Zone
Highly anticipated new Spanish restaurant, Loquita (a Spanish colloquial term for a wild and fun-loving young girl), will open this fall. Created by Acme Hospitality, the team behind the renowned Lark restaurant, Loquita is a love letter to the Spanish origins and history of Santa Barbara. Executive Chef Peter Lee created the menu with input from celebrated Spanish Chef Perfecto Roche, presenting authentic Spanish paella, charcuterie and cheeses, locally sourced seafood and meat dishes. The restaurant will also feature Poquita - a Tapas Bar, serving pintxos and tapas. http://www.loquitasb.com/
"Nomad Italian" restaurant Convivo opens at Santa Barbara Inn
Santa Barbara Inn's new restaurant, Convivo, features "nomad Italian" cuisine that draws on both Mediterranean influences and Santa Barbara's bounty of seafood and wood-fire roasted meats. The menu features cicchetti (small plates served in bite size portions), shareable antipasti, house-made pasta, wood-fired pizza and more. A collaboration of legendary restaurateur Larry Mindel of the Il Fornaio group and Chef Peter McNee, the restaurant and bar accommodate up to 170 people with indoor and outdoor seating and a view of East Beach and the Pacific Ocean. http://www.convivorestaurant.com/
Helena Avenue Bakery bakes up deliciousness
Sharing a space with the Santa Barbara Wine Collective, newly opened Helena Avenue Bakery custom-bakes sweet and savory goods — making for a convenient start or stopover while on the Urban Wine Trail. Expansive windows provide a glimpse of chefs, overseen by Jeff Haines, as they hand-shape delectable baguettes, breads and pastries. Chef Weston Richards (of Spare Parts pop-up acclaim) oversees the take-out Picnic Counter. Country Walnut bâtard, hand pies with seasonal jam, Cold Fried Chicken Sandwich on Ciabatta are just a few of the treats offered. http://helenaavenuebakery.com/
Libations:
New Waterline complex makes waves
Located in an expansive industrial warehouse, the new Waterline complex follows the trend of adaptive reuse projects throughout the buzzy Funk Zone. The vibrant new complex houses innovative food and drink purveyors, as well as an artisan's collective. Lama Dog Tap Room and Nook, a global comfort food eatery in a refurbished shipping container, are already drawing crowds. The complex's other half, containing Topa Topa Brewing Co., Fox Wine Co., Blair Fox Cellars and The Guilded Table, is expected to open in October. http://www.waterlinesb.com/
Test Pilot's tiki-inspired twist takes off in the Funk Zone
Test Pilot, a new tiki-inspired cocktail bar from the proprietors of the renowned Good Lion, opened in early September in the Funk Zone. The fun, hospitality-first bar draws inspiration from Don the Beachcomber (the 1930s creator of tiki), its location near Stearns Wharf and the rich history of Prohibition-era rum/whiskey smuggling in the Channel Islands, just off the Santa Barbara coast. Expanding on the work of cocktail visionaries like Don, Test Pilot features an original program of modern tiki cocktails purposely on the drier side, as well as popular classic/neo-classic craft cocktails. http://testpilotcocktails.com/
Santa Barbara Public Market 2.0 opens downtown
Two new eateries, The Garden and Corazon Cocina, are changing the face of the Santa Barbara Public Market. Located at the front of the market, which was extensively remodeled, The Garden serves 40+ craft beers on tap, an elevated bar menu with smoked meats and fresh, local seafood. Headed by Chef Ramon Velazquez, former pop-up eatery Corazon Cocina has found a permanent home, serving fresh ceviche, mouth-watering tacos and house-made aguas frescas. The Garden: http://bit.ly/2cttCTc Corazon Cocina: http://bit.ly/2chMvcC
New Santa Barbara Sparkling Wine Map
Sparkling wine fans: It's time to get bubbly! Cali Coast Wine Country has created the first guide to sparkling wine producers in Santa Barbara County. Santa Barbara County is one of the world's premier growing regions for chardonnay and pinot noir grapes – two of the main varietals used in traditional champagne. As a result, high-quality sparkling wine production (in the same méthode champenoise as the champagnes of France) has been on the upswing among local vintners in recent years. Download the map here: http://calicoastwinecountry.com/wordpress/wp-content/uploads/sb_bubbles_guide.pdf
New tasting room at The Fess Parker - A Doubletree by Hilton Resort
The Fess Parker family of wines has expanded its reach with the opening of a new tasting room located off the main lobby inside The Fess Parker - A Doubletree by Hilton Resort, Santa Barbara's four-diamond oceanfront resort. The tasting room features a rotating selection of 16 wines from award-winning Fess Parker Winery and Epiphany, focusing on limited production and single vineyard offerings. Beautifully styled with contemporary wood and leather accents, the room includes a state-of-the-art Enomatic wine dispensing system. http://bit.ly/2cdVA5p
Arts & Culture:
Inaugural Santa Barbara Acoustic Instrument Celebration Sept. 29-Oct. 2
Running Sept. 29 through Oct. 2, the inaugural Santa Barbara Acoustic Instrument Celebration is a one-of-a-kind gathering of acoustic music-makers, instrument builders and music lovers that delights in the art and craft of acoustic music. Attendees can meet contemporary master luthiers and purchase some of the world's finest handmade instruments directly from the makers. The festival also features live performances of acoustic music, including finger-style, jazz, blues, classical and slack key, throughout downtown Santa Barbara, as well as master classes. Visit www.sbaic.com for tickets.
Exhibit on Spain's influence on the U.S. at Santa Barbara Historical Museum
The Santa Barbara Historical Museum will host the landmark exhibition, "Designing America: Spain's Imprint in the U.S.," as part of the Embassy of Spain's "Spain Arts and Culture" program. Running Oct. 20 through April 20, 2017, the exhibition offers a cogent view of Spain's extensive contributions in shaping the territory, landscape and cities of the U.S. — not least of them Santa Barbara, where vibrant Spanish heritage lives on, especially through its architectural influence. Significant historic, political and cultural events that took place between these two countries will also be explored. http://www.santabarbaramuseum.com/default.html
50th Anniversary of Santa Barbara Sister Cityhood
In 2016, the city of Santa Barbara celebrates its 50th anniversary as a sister city to Toba City, Japan. Coinciding with the anniversary, a delegation of Japanese guests will visit the city in the fall, and an exhibit of Japanese handmade paper art by Santa Barbara artist Marilyn Hochhauser will be on display at the Architectural Foundation of Santa Barbara Sept. 23 through Oct. 28. Toba is Santa Barbara's oldest sister city. Santa Barbara's other sister cities include Dingle, Ireland; Kotor, Montenegro; Patras, Greece; Puerto Vallarta, Mexico; San Juan Metro Manila, Philippines; and Weihai, People's Republic of China. http://bit.ly/2ce97aX