The ultimate fast Chicken Satay Salad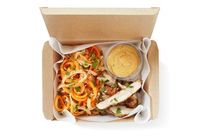 This autumn, LEON the 'Naturally Fast Food' chain will unveil an exclusive new dish, made in collaboration with professional chef, food writer and TV presenter, Gizzi Erskine.
Rooted in their shared passion for satisfying nutritious recipes, and keen to create a fun new menu item together, the LEON X Gizzi Chicken Satay Salad takes inspiration from Gizzi's cookbook Gizzi's Healthy Appetite and proves that it is possible for fast food to be good food created by chefs.
The dish comprises of a sweet potato, carrot and daikon spiralised salad, topped with LEON's chargrilled chicken and finished with a punchy pot of satay sauce. A generous sprinkling of LEON's toasted seeds is added last for extra crunch.
Excited for the launch of the brand new dish, CEO John Vincent says, "I love working with people that I love working with. Gizzi cares about and enjoys food as much as us, and has always believed as we do that food can both taste good and do you good. We've found a soulmate – together we're going to create the next chapter in the future of fast food."
Gizzi adds: "I've always loved LEON, and working with them to turn my recipe into a quick and healthy dish has been so much fun. There have been so many unexpected obstacles – from sourcing affordable ingredients without compromising quality, to making the method simple enough to serve the dish within thirty seconds across thirty-eight stores. I've really enjoyed coming up with innovative solutions to these challenges, and I'm really proud of what we've created together and the fact it's available for all LEON lovers. We're working on more exciting projects this year, so watch this space."
The LEON x Gizzi Erskine Chicken Satay Salad launches nationwide on September 21st priced at £6.45, alongside five other news dishes including three made especially for LEON's vegan consumers. New dishes coming this autumn include: Gizzi's Chicken Satay Salad, Coconut Yoghurt Bircher [vegan], Black Bean & Avocado Pot [vegan], Sweet Potato Falafel Salad [vegan], Pulled Ham Black Bean [LEON's current black bean dish with ham added] and Sicilian Chicken Meatball Salad.
For more information, visit leonrestaurants.co.uk.