High heels take a tumble: More women buy trainers than high heels for the first time in 2016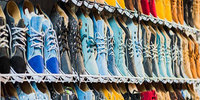 They have dominated the shoe closet for years, but it seems that the high heel may now be out of step with women's footwear demands. Indeed, new research from Mintel reveals that 37% of UK women who have bought footwear in the last year bought trainers, compared to 33% who bought shoes with a heel. Previously, trainers and high heels were toe to toe, as in 2015 35% of women bought trainers and 35% of women bought high heels equally.
Led by the likes of Victoria Beckham, driving this trend are women aged 35 to 44. Almost half (48%) of women in this age group bought trainers in the past year, compared to 30% of the same group who bought heels. Overall, flat shoes are still the most popular type of shoes purchased at 51%, with women's flat boots (30%) and flat sandals (25%) following in fourth and fifth place after trainers and heels.
And it seems that the popularity of heels is falling flat in general as 59% of female footwear buyers prefer to wear flat shoes, compared to just 12% who prefer to wear high-heeled shoes.
Tamara Sender, Senior Fashion Analyst at Mintel, said: "For the first time ever sales of trainers have overtaken high heels. The UK sportswear market has seen strong growth in the last year and there has been a trend for consumers to integrate sports clothing into their daily wardrobes, meaning trainers have also become more popular among women, overtaking heels to become the second favourite item of footwear after flat shoes. Athletic footwear is increasingly being used for everyday non-sporting activities showing that trainers are now more likely to be used for non-sports use. Women aged 35 to 44 have become the main trainer buyers proving the trend is no longer limited to younger consumers."
Today, the UK footwear market is putting its best foot forward, with sales expected to increase 5.4% in 2016 to reach £10.5 billion, up from £10 billion in 2015. What is more, sales are forecast to increase a further 25% over the next five years to reach £13.2 billion by 2021.
Furthermore, Mintel research reveals that the men's footwear market is racing ahead, with sales of men's footwear growing 9% from £3.6 billion in 2015, to reach £3.9 billion in 2016. In comparison, women's footwear fell 2.5% from £5.6 billion in 2015 to £5.5 billion in 2016.
"While women's shoes dominate the market, the men's footwear sector is growing at a faster rate as men become increasingly interested in fashion and grooming, pushing up sales of men's clothing and men's footwear." Tamara continues.
For footwear buyers comfort is king, as three quarters (74%) of Brits who have bought footwear in-store or online in the last year agree that comfort is more important to them than fashion. In contrast, just 28% prefer to buy shoes that follow the latest fashion trends. Additionally, two in five (39%) of this group prefer sporty or casual styles of shoes, compared to just one in five (21%) who prefer formal styles of shoes.
Finally, it appears that "if the shoe fits" does not apply to many female footwear buyers as over two fifths (43%) struggle to find shoes that fit them well. To address this problem almost half (54%) of UK women would like to see a better range of size options, such as half sizes or wide and narrow fit options, and 43% would like to see a better size standardisation across retailers and brands.
"Women in particular struggle to find shoes that fit them and this remains a big issue in the footwear sector, leading to high rates of returns, particularly when shopping online. One of the ways to help consumers to find better fitting shoes is for better size standardisation across retailers and brands. While this is a big challenge for the footwear industry, retailers can assist customers by advising them what sizes they are likely to fit into across different styles of footwear and to be more transparent about the differences between sandal and shoe sizes." Tamara concludes.