Help to Buy still lending a hand to Yorkshire homebuyers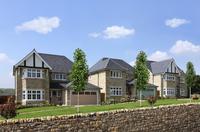 As Government statistics show Help to Buy has already helped 185,000 people own their home, Redrow continues to offer the price-busting scheme at all of its Yorkshire developments.
It means homes costing less than £600,000 can be bought with a Government-backed 20% equity loan that's interest free for the first five years.
The good news for home buyers is that they should only need a 5% deposit and a 75% mortgage - and because of the reduced initial outlay their monthly mortgage repayments should be less than expected too.
"Home buyers win all round," says Patsy Aicken, sales director for Redrow Homes (Yorkshire). "There were some reports last week that the scheme had closed, but that only applied to the lesser known mortgage guarantee part of the scheme. The more widely used Help to Buy for new-build homes continues apace, we're happy to say – and our customers are happy to discover.
"It's been hugely popular here in Yorkshire and we've helped very many people onto the housing ladder, including first time buyers and families who were previously trapped in a home too small for their needs."
Nationally, the Help to Buy scheme has helped more than 185,000 people to achieve their dream of home-ownership since it was launched in April 2013. Of those, 150,000 have been first-time buyers, with 95% of sales outside London.

Announcing the latest statistics, Gavin Barwell, Housing and Planning Minister, confirmed: "Help to Buy is helping more people realise their home-ownership dream by reducing the need for large deposits and getting more new homes built."
It is something Redrow has certainly seen. Last year, around 50% of customers who bought a Redrow home in Yorkshire used Help to Buy.
Among them were Paul and Lindsay Dixon, who bought their Abode style Redrow home at Horsforth Vale, near Leeds.
Paul, an operations manager for an energy firm, said: "Help to Buy will make things a little bit more comfortable for us in the first few years and takes the pressure off.
"We didn't realise it was available to us because we already had a home of our own. It was the sales assistant at Redrow who explained it all to us and once we knew about it, it was a no brainer."
Nkosinathi and Berth Zvimba used Help to Buy to purchase their Oxford-style family home at Nostell Fields in Crofton, near Wakefield.
Businessman Nkosinathi, 40, said: "Help to Buy made purchasing this house far more affordable and we could make sure our mortgage repayments were as low as possible."
"Put simply, Help to Buy helps people to buy the brand new home they have dreamed of," Patsy Aicken added. "Either it makes it affordable or more affordable; or it means people can invest in a better or bigger property than they had originally thought possible – perhaps avoiding the expense of a second move a little further down the line as their family grows or circumstances change."
Help to Buy is readily available at all of Redrow's developments across Yorkshire, including developments in or near York, Harrogate, Boston Spa, Selby, Leeds Keighley, Wakefield and Rotherham. Further information: redrow.co.uk/yorkshire.