BMW Motorrad Rider's Equipment 2008 collection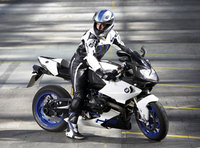 The products in the BMW Motorrad Rider Equipment range are characterised by superb quality, practicality, and attractive design. Clothing with the blue and white logo certainly represents a good choice.
The new Sport Collection provides everything the ambitious sports rider might need. For example, the Sport Full-Face Helmet is particularly light and quiet. The new Sport Leather Suit guarantees maximum safety and appeals because of its dynamic design. To complete the Sport range, the Sport Boots offer professional protection and comfort on and off the race track.
With the fabric Tourance 2 Suit, BMW Motorrad shows that it's possible to improve on even the best products – especially in such areas as climate and wear comfort.
Another top-of-the-range product is the Atlantis 4 Leather Suit. Its predecessor products, with their all-weather concepts, have already won favour with many demanding touring riders
The Club 2 Ladies Jacket is the ideal sporting, leisure and motorcycle jacket for female riders and passengers. The perfect partner for the jacket is the jeans-style Denim City Trousers – which are also suitable for men and combine a casual style and superb comfort with excellent safety features.
The beautifully crafted ProSport 2 Gloves offer excellent grip and even better protection thanks to the new rigid shell. In contrast, ProWinter 2 Gloves will keep hands warm and dry even on the coldest of winter days. The completely new design ensures even better comfort.
When it comes to footwear, the fashionable Sneaker 3 Short Boots are ideal for city use.
Finally, a wide selection of other useful sporting accessories completes the new range of modern BMW Motorrad products.
Sport Collection
Sport Full-Face Helmet – particularly light and quiet
Sport Leather Suit – the highest standards of design and safety
Sport Boots – professional protection and comfort
Textile suits
Tourance 2 Suit – improved climate and wear comfort
Leather suits
Atlantis 4 Leather Suit – top-of-the-range all-weather touring suit
Jackets
Club 2 Ladies Jacket – a sporting, motorcycling and leisure jacket
Trousers.
Denim City Trousers – comfortable and safe in a jeans look
Gloves
ProSport 2 Gloves – better grip and even more protection
ProWinter 2 Gloves – warm and dry even in the freezing cold
Boots
Sneaker 3 Boots – fashionable half-boots for biking and city wear
Accessories
Enduro Shirt 2
Silver Function 2 long-sleeve shirt
Silver Function 3 T-Shirt
Jump T-Shirt
S T-Shirt
Reflection 3 T-Shirt
BMW Motorrad T-Shirt
GS T-Shirt
BMW Motorrad X T-Shirt
Classic 2 Polo Shirt
Blue Steel Ladies Top
GS Cap
Sport Cap
Challenge Cap
Canvas Belt
Key-box
TrinkPak Hydra Drinking-Water Reservoir