New R 1200 GS and Adventure models in dealerships from 26 January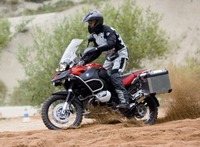 To celebrate the release of the new R 1200 GS and GS Adventure, BMW Motorrad is offering a place on this year's best-selling World of BMW "Roads to Morocco" tour to one lucky rider and pillion.
Visitors to BMW Motorrad dealerships from 26 January to 15 March will have the opportunity to enter the draw. The winner will receive two places on the April tour giving the opportunity to explore this spectacular and enchanting country on a new R1200 GS motorcycle.
The eagerly anticipated uprated BMW R 1200 GS and R 1200 GS Adventure models will be available for test rides in BMW Motorrad dealerships from 26 January onwards. The new models benefit from a range of improvements, including styling changes, a more powerful engine, new gearbox, revised gear ratios, and a new Enduro version of BMW's unique ESA (Electronic Suspension Adjustment) system.
New Enduro ESA - the original ESA system was first launched on the K 1200 S sport tourer model, and an uprated Enduro ESA has now been developed for the R 1200 GS and GS Adventure with pre-load adjustment of the front suspension unit for the first time. The Enduro ESA is incredibly easy to use, enabling the rider to adjust the suspension of the bike, to suit load or terrain, by simply pressing a button on the handlebar controls.
New more powerful engine – the new engine offers more dynamic drive with increased power in the upper half of the rev range. The engine power on the new models has been raised by 5%, from 100 to 105 bhp, coupled with revised gear ratios to give a stronger spread of power.
New dynamic look – the fresh and dynamic look of these motorcycles emphasises their enduro attributes through the use of stronger styling elements. With new stainless steel tank deflectors on the 1200 GS aligned with features such as the anodised slide tubes and cylinder-head, the new GS's continue the bestselling bike's reputation for strong, original, and innovative design.
BMW Motorrad Marketing Manager, Tony Jakeman said, "BMW Motorrad is offering this fantastic trip of a lifetime to Morocco to mark the arrival of the new R 1200 GS and Adventure in BMW dealerships on 26 January. The models are ideal for adventure motorcycling, with the new ESA enabling riders to make on-road to off-road suspension adjustments at the click of a button - perfect for covering Morocco's vast Atlas Mountains and desert passes. Interest in the iconic, up-graded GS models has already been high so we expect our dealerships to be very busy satisfying requests for test rides from the end of January onwards."
For further information, or to book a demo ride on a new R 1200 GS or GS Adventure, contact your local BMW Motorrad dealer. To find your nearest dealership please visit: bmw-motorrad.co.uk