BMW Motorrad Insurance to provide five-day complimentary cover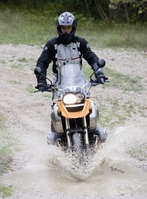 From 1 February BMW Motorrad Insurance will be offering five-day complimentary insurance cover to all customers purchasing a new or used BMW motorcycle. The complimentary insurance is available at BMW dealerships nationwide, and can be arranged simply by requesting a no obligation annual policy quote from BMW Motorrad Insurance.
Customers taking advantage of the offer will benefit from immediate cover, which will enable them to ride away from a BMW Motorrad dealership on their new motorcycle on day of purchase. No more having to wait for new certificates from owners' insurance companies, as a cover note confirming the five-day cover will be provided.
Designed with BMW riders in mind the range of products from BMW Motorrad Insurance provide cover exclusively for BMW riders and their motorcycles.
BMW Motorrad Insurance offers a number of attractive benefits for BMW motorcycle owners at competitive rates, as well as some fantastic model-specific insurance schemes on the F 800 S, F 800 ST, F 650 GS and F 650 GS Dakar, with flat rate premiums for comprehensive cover.
BMW Motorrad Insurance policy benefits include:
Up to nine years no-claims discount scale, with automatic protection after four years. Up to two years introductory no-claims discount for new riders
A second rider insured free of charge
Additional BMW motorcycles insured at a flat rate of £10.50 per motorcycle per annum
Personal possessions (e.g. helmet and riding suit) covered for accidental damage and theft up to £1000
10% discount on a Level 3 BMW Rider Training course through World of BMW
Free two-day comprehensive cover for test rides arranged with BMW Motorrad dealers
Cover for EU countries when you travel abroad on your motorcycle
5% reduction if your motorcycle is kept in a garage
Restricted mileage discount of up to 20%
For details of the BMW Motorrad Insurance five-day complimentary cover please call 0800 051 1796, or visit your local BMW Motorrad dealership.