New F 650 GS available for £65 per month with BMW Select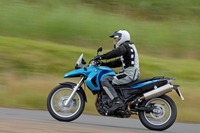 Upgrading to BMW quality is now more affordable courtesy of a new Personal Contract Purchase (PCP) product called 'Select' from BMW Financial Services. By allowing customers to spread the cost of their motorcycle over 24 months and setting a Guaranteed Minimum Future Value for the customer bike, the customer no longer has to worry about what their motorcycle will be worth at the end of their finance agreement.
Monthly repayments could be as low as £65 with the new 'Select' offer because the Guaranteed Minimum Future Value of the bike becomes the optional final payment and this lump sum is deferred to the end of the agreement. In addition to this BMW Financial Services is offering customers three flexible options at the end of their Select agreement; either hand their motorcycle back, keep their motorcycle and pay the optional final payment or part-exchange their motorcycle for a new one.
BMW Select is available on the entire range of BMW Motorrad models from the HP2 Sport to the F 650 GS.
The new BMW F 650 GS entry level, all-terrain enduro is a complete redesign of the much loved single-cylinder model. The original machine's powerplant has been superseded by BMW's new high performance 71hp parallel-twin engine. With chain drive transmission, seat height options as low as 76.5cm and a price of £5,495 OTR, the F 650 GS is an affordable and versatile introduction to the world of BMW enduro.
The F 650 GS is aimed at riders who have more conventional riding requirements and do not need a dedicated bike with competition enduro suspension travel. With its lower riding position, lighter and more evenly distributed weight of 176kg, the 'little' GS is easy to control, has plenty of power and delivers remarkable fuel economy.
Despite its '650' designation the F 650 GS has the same 800cc parallel-twin engine as the F 800 GS. With a slightly reduced power output (71 instead of the 85hp delivered by the F 800 GS) the F 650 concentrates on high torque at low engine speeds but with surprisingly miserly fuel consumption.
In addition to the low purchase price, BMW Motorrad Insurance is also available at an equally affordable price. Comprehensive motorcycle insurance cover for the F 650 GS is available at a flat rate of £230 for riders aged 26 years and over, or £460 for riders aged 21-25 years (subject to terms and conditions).
To locate your nearest dealer and book a test ride, visit bmw-motorrad.co.uk.