BMW offers complimentary navigation system with R 1200 RT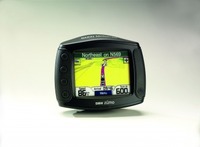 Hot on the heels of the recent launch of its brand new satellite navigation system - the BMW Motorrad Z?mo - BMW Motorrad is pleased to announce that all customers purchasing an R 1200 RT, between 1 September and 19 December 2008 (inclusive), will automatically qualify for a complimentary BMW Z?mo and mounting kit.
The BMW Z?mo was launched in July this year with a variety of rider-friendly features giving it an edge over other car-based navigator systems and providing an economical alternative to the popular Navigator III.
The Z?mo is highly advanced but easy to use. The bright display makes it easy to view in any conditions, while the large icons and left handed controls make it more functional and easy to use. In addition to being waterproof, the system comes with a fuel and UV-resistant screen.
The Z?mo's Bluetooth capabilities provide hands-free communication, enabling it to be linked to the rider's helmet and a mobile phone. The navigation system also comes pre-loaded with full European mapping, all ready to plot and go. Routes can even be loaded onto Google Earth, enabling riders to display and share routes with others.
Further features include MP3 compatibility, a JPEG picture viewer and an extensive 'Points of Interest' database that provides highly accurate and useful information.
The BMW R 1200 RT remains unchallenged as the king of all tourers, recently topping RiDE magazine's RIDER POWER survey as Britain's best bike. This popular 'Boxer twin' is available with optional Electronic Suspension Adjustment (ESA), while the complimentary Z?mo (normally priced at over £500 with the mounting kit) adds real value for customers.
For further information on this offer, or to find your local BMW Motorrad dealer visit bmw-motorrad.co.uk