BMW Motorrad unveils new K-Series models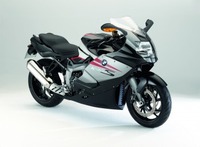 BMW Motorrad, Europe's largest and most successful motorcycle manufacturer, has once again reaffirmed its position as a leading producer of high performance motorcycles. The launch of three significantly updated K-series models from BMW Motorrad continues its philosophy of producing innovative and dynamic motorcycles that offer state-of-the-art technology with class-leading performance.
The three updated models share the same chassis and upgraded drivetrain but appeal to three distinct motorcycle market sectors.
K 1300 S - The fastest motorcycle BMW Motorrad has ever produced. The K 1300 S is a top-of-the-range hypersports bike combining blistering power with innovative technology to offer perfect everyday or long-distance riding qualities.
K 1300 R - A striking, muscular naked bike, with extremely high performance, the most technically advanced machine in its class.
K 1300 GT - A fast, comfortable and supreme tourer, the GT is quite simply the best sports tourer BMW Motorrad has ever made.
The heart of these three models is the second-generation of BMW Motorrad's four–cylinder power unit, which has been developed to give a significant increase in power and torque, whilst refining its tractability and usability.
The new features of the engine are:
New pistons, connecting rods and crankshaft.
Displacement increased by 136cc from 1,157cc to 1,293cc.
Increased capacity is achieved with larger cylinder bores and extended piston stroke.
Maximum output is up 8hp (6kW) to 175hp (129kw) for the K 1200 S.
Maximum torque is up 10Nm to 140Nm.
Maximum power output is achieved at 9,250rpm, which is 1,000rpm lower than the previous model.
New exhaust system design including an exhaust butterfly flap for more torque and sportier sound.
To transmit this extra performance to the road safely the chassis configurations of the K 1300 S and R models have been stiffened as standard. In addition, all of the K-series offer new, innovative suspension technology with the option to upgrade to the second generation of Electronic Suspension Adjustment (ESA II).
ESA II controls a wider range of suspension settings than the previous version and now features a world first. This advanced and unique arrangement is now able to perform automatic simultaneous adjustment of ride height, pre-load, spring rate and damper settings based on the machines loading. The rider can further tailor the suspension to a more comfortable or sporty setting, ensuring optimum handling for each individual rider.
All three models in the series have had styling updates to match their increased performance. Detailed changes include a new, slimmer upper cowl on the K 1300 S, to the aggressive new cockpit fairing on the K 1300 R. The K 1300 GT benefits from protectors which have been integrated into the side sections to reduce the risk of damage should the machine fall over.
For riders wanting even more high tech gadgetry, BMW Motorrad offers a full range of High Performance (HP) parts as seen on the HP2 Sport. A 2D Systems MotoGP-style dashboard offers additional display data in both road or race modes. Gearshift Assistant enables the rider to make clutchless upshifts while accelerating without the need to momentarily lift off the throttle. Both items are available as a factory-fitted option for the K 1300 S and K 1300 R.
Adrian Roderick, General Manager BMW Motorrad UK, said: "This year BMW Motorrad celebrates 25 years of the K-series. With the launch of this more dynamic and powerful range, these bikes are destined to be more popular than ever. The K 1300 S is now the fastest, most powerful BMW we have ever produced and is probably the perfect cross-continent sports bike.
"The styling of the K 1200 R has won BMW many new customers. I'm confident the new more powerful K 1300 R will continue this trend of proving popular with urban sports riders who want a naked bike with strong styling and cutting-edge technology.
"Finally, the new K 1300 GT stands for Gran Turismo of the highest calibre. The GT is a high performance tourer that combines maximum agility and sporty handling with the comfortable long-distance riding ability synonymous with BMW touring machines."