BMW Motorrad F 800 R roadster unveiled at Milan Show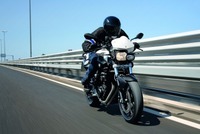 BMW Motorrad has unveiled the latest model in its F 800 series, launching the sporting new F 800 R at the EICMA 2008 Milan Motorcycle Show. This highly distinctive new roadster, a naked BMW bike in the mid-market segment, has been designed to deliver uncompromising handling, agility and steering precision, as well as maximum riding enjoyment. Alongside the K 1300 R, this is the second BMW roadster to be launched this year.
The F 800 R is set to be launched in May 2009 at an on-the-road price expected to be sub-£6000. It is fitted with a parallel twin engine with 4-valve technology and a capacity of 798 cc - already familiar to the F 800 S – but with power uprated to 87hp. The in-line 2-cylinder engine is already class-leading, with its strong pulling power, spontaneous response and low fuel consumption.
Closely based on the design of the BMW K 1300 R, the distinctively sporty F 800 R possesses considerable sprinting power. The shorter gear ratios from fourth to sixth gear provide faster acceleration, while the excellent pulling power of the two-cylinder engine delivers agile performance.
The new F 800 R is also fitted with a new double-sided swingarm. Constructed from a light alloy cast, the design of the swingarm highlights the dynamic characteristic of the new F 800 R, especially at the rear. Final drive is by an 'O' ring chain.
But the new F 800 R boasts more than just sporting talent: in the very best BMW tradition, it also possesses classic virtues such as outstanding seating comfort for rider and pillion passenger, as well as exemplary levels of safety. For example, the F 800 R is available with an ABS system whose newly developed pressure sensor provides an even finer regulation and therefore even greater safety.
BMW has also paid special attention to quality details in the immediate field of vision of the rider. In addition to re-drawing the faces of the instrument panel, the upper fork bridge with steering stem clamps, milled covering caps and butted handle bars are finished to a very high standard.
Additional accessory parts, including the sport windshield, radiator trim panels, a pillion passenger cover and an engine spoiler, can also be added to further individualise the F 800 R.
Tony Jakeman, BMW Motorrad UK Marketing Manager, said: "BMW Motorrad recently struck out on a new path into medium category motorcycles with the F 800 series, originally launched in 2006. The first model variation was the sporty F 800 S, followed by the F 800 ST with its touring capabilities. The F 800 GS and the F 650 GS, two dynamic enduro models in the very best BMW Motorrad GS tradition, then followed. The F 800 R is a logical expansion of our F 800 series, adding an urban edge to our ever growing range of models."