BMW F 800 GS wins Best Trailie Bike of the Year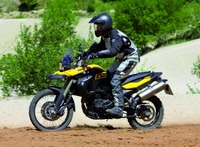 It was another successful evening for BMW Motorrad UK at this year's Motor Cycle News (MCN) Awards, as Europe's largest and most successful motorcycle manufacturer scooped a brace of honours. The BMW F 800 GS won Best Trailie Bike of the Year while the marque also received a 'Special Commendation' in the Accessories category for its Lowered Suspension Option, available on almost a third of its motorcycle range.
The awards, which took place at the Carole Nash International Motorcycle and Scooter Show at the NEC in Birmingham, are widely considered to be the most prestigious awards for the motorcycle industry, recognising success in all areas of motorcycling.
The all-new all-terrain F 800 GS completely lives up to its illustrious GS (Gelande Strasse) heritage, all at a very affordable price. This recent addition to the BMW range has surpassed the expectations of even the most demanding enduro riders and, not surprisingly, has quickly caught the public's imagination.
BMW's Lowered Suspension Option is also proving to be extremely popular. For many years, riders who prefer a lower seat height have not enjoyed the luxury of choice when it comes to purchasing a motorcycle. However, BMW's lead in rider ergonomics has enabled the company to develop a number of motorcycles in its range that – along with low seat options – now feature optional lowered suspension.
Adrian Roderick, General Manager for BMW Motorrad UK, commented: "2008 has been a record breaking year for BMW Motorrad and is officially our most successful ever. To win this award for the F 800 GS, and the 'Special Commendation' for our Lowered Suspension Option, is the icing on the cake.
"We are welcoming more and more new customers into our dealerships as the number of riders converting to the BMW brand increases. This is testimony to our current range of motorcycles as we continue to embrace new market segments and launch exciting and dynamic new models.
"2008 was 'Year of the Enduro' for BMW – a year when we launched the F 650 GS, F 800 GS, updated versions of the R 1200 GS and R 1200 GS Adventure, as well as our most dynamic enduro bike ever, the G 450 X. While remaining committed to these enduro bikes, we will also be releasing five exciting new models in 2009. The F 800 R, K 1300 GT, K 1300 R and K 1300 S – the fastest motorcycle BMW has ever produced – have all been unveiled at this year's International Motorcycle and Scooter Show. The new S 1000 RR, which Troy Corser and Ruben Xaus will be riding in next year's World Superbike Championship also made its UK debut at the show. Taking all of the above into account, 2009 promises to be another successful year for BMW Motorrad, both on and off the track."
BMW's award winning F 800 GS is currently on display on the BMW Motorrad stand at this year's International Motorcycle and Scooter Show, being staged at Birmingham's National Exhibition Centre until Sunday 07 November. Visitors to the show will also be able to able to test ride a range of BMW motorcycles fitted with the Lowered Suspension Option.
The BMW Motorrad stand is situated in Hall 1 at the NEC, while its interactive Low Seat Demo Zone is located in Hall 3.
For further information on BMW's model range, Rider Equipment and Accessories please visit bmw-motorrad.co.uk