BMW UK motorcycle registrations up 15% over 2007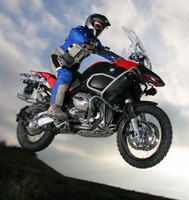 BMW Motorrad UK is delighted to be celebrating a year of record sales following the recent publication of 2008 UK motorcycle registration figures by the Motorcycle Industry Association (MCIA).
In a challenging year, when UK motorcycle registrations fell by 5.3%, there were several reasons to be cheerful from a BMW Motorrad UK perspective:
In 2008, BMW Motorrad UK achieved its highest ever number of registrations, increasing year on year sales by 15%, with a total of 5,850 bikes sold.
Combined sales of the R 1200 GS and its Adventure variant 'unofficially' made it the UK's best-selling bike. Registrations totalled 2,411 units, up 21% over 2007.
BMW Motorrad increased its market share from 5% to 6% in 2008, leapfrogging Harley-Davidson to become the 6th best selling motorcycle manufacturer in the UK - only 40 registrations behind 5th place Triumph.
2008 was another spectacular year for BMW's iconic R 1200 GS models. The GS and Adventure models accounted for a record breaking 41% of Motorrad's overall registrations, crowning the increasingly popular Adventure Sports segment. The standard GS topped the table with 1,280 bikes sold, whilst the Adventure secured second place with sales of 1,131 units.
Equally victorious in the Adventure Sports category was the F 800 GS, launched in 2008. In only its first year the well received sports enduro sold an exceptional 671 motorcycles, making it the fifth most successful bike in the market segment. With three bikes in the top five, BMW Motorrad has reaffirmed its position as the leading manufacturer in the Adventure Sports category.
2008 also proved to be a success for the all-new twin-cylinder F 650 GS which sold an impressive 537 bikes. It experienced its highest level of annual sales since the F 650 Funduro was first introduced in 1993. The new all-terrain bike is a complete redesign of the much loved single-cylinder model and has proved a popular and affordable entry level bike for newcomers to motorcycle riding.
Adrian Roderick, General Manager of BMW Motorrad UK, said: "2008 was the most successful year ever for BMW Motorrad in the UK. The introduction of new models into new market segments has been an overwhelming success. The launch of the brand new G 450 X into the enduro sector proved we can enter categories new to BMW Motorrad and attract customers to our bikes with innovative engineering solutions.
"The interest in the brand continues to grow as we broaden our appeal to a wider audience and launch even more exciting and dynamic models in 2009.
"This year will see the addition of four new motorcycles to the BMW range, the K 1300 R super-naked, the K 1300 GT tourer, the sport touring K 1300 S and the all-new F 800 R roadster. The K-Series bikes reaffirm BMW's position as a leading producer of technically advanced, high performance motorcycles. They received a hugely positive reception at the NEC Show and early reports from journalists are also extremely positive following our recent media test event in Spain. We look forward to a similar reaction to the F 800 R's launch in May.
"2009 promises to be an exciting year both on and off the track. The S 1000 RR, which will be raced by Ruben Xaus and Troy Corser in this year's World Superbike Championship, evoked a hugely positive reaction when it made its first UK appearance at the NEC Motorcycle show. The bike drew high levels of interest from supersport riders visiting the show, which will stand us in good stead when the road bike is unveiled later this year.
"It is difficult to foresee how the current financial climate will affect sales in 2009, however, with our diverse range of models and commitment to affordability, BMW Motorrad is optimistic that sales will remain healthy. We are able to offer customers a variety of attractive finance packages and competitive insurance rates, while the opening of three new Motorrad dealerships in Spring, will make BMW motorcycles even more accessible to riders."