BMW Motorrad unveils new S 1000 RR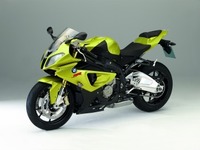 BMW Motorrad's highly-anticipated new entrant in the supersport motorcycle sector made its debut at last weekend's Monza Italy round of the World Superbike Championship. Europe's largest motorcycle manufacturer unveiled its new S 1000 RR model, the production version of its World Superbike racer.
After several years of planning, design and development, BMW Motorrad has reached a new level in the world of sports machinery with the S 1000 RR. The power-to-weight ratio, along with optional Race ABS and DTC Dynamic Traction Control technologies, have all contributed to attaining a new benchmark in terms of riding dynamics, safety and innovation.
Technical highlights of the S 1000 RR include:
A power output of 193 bhp at 13,000 rpm with peak torque 82.5 lb-ft (112 Nm) at 9,750 rpm.
The S 1000 RR weighs 206.5 kg in road trim. With a full tank, this is the lightest supersport bike with ABS in the 1000-cc class. The dry weight is 183 kg.
It has the best power-to-weight ratio in its class: just 1.05 kg and 1.06 kg per horsepower without/with Race ABS.
The optional Race ABS gives outstanding braking performance and safety. The weight of the entire system is just 2.5 kg, which compares favourably with similar competitor ABS systems weighing up to 10 kg.
Optional DTC Dynamic Traction Control, in conjunction with the Race ABS, provides optimum performance and maximum 'active' safety under acceleration.
The S 1000 RR is the only supersport machine to offer Race ABS and DTC Dynamic Traction Control in combination.
S 1000 RR has various riding 'modes' available at the touch of a button, to optimise performance on wet surfaces, regular roads, race tracks with sports tyres, and race tracks with slicks.
These four riding 'modes' provide an all-round set-up, co-ordination and balance for the Race ABS, DTC Dynamic Traction Control and engine management.
The engine features high speed, ultra-strong valve drive with individual cam followers and titanium valves, following the example of BMW's Formula 1 engines.
The innovative exhaust system has a short rear-end muffler, pre-silencer and electronically controlled interference pipe flaps, as well as a fully controlled exhaust gas manifold and two three-way catalytic converters.
The S 1000 RR has supreme aerodynamics and sporting ergonomics that are ideal for riders of all sizes.
The optional HP Gearshift Assistant enables riders to 'speed shift' up through the gears without using the clutch and with no interruption to torque or pulling power.
BMW Motorrad's objectives while developing the S 1000 RR were to produce a stiff yet agile chassis, with top handling and supreme traction. The aim was also to reduce the weight of the motorcycle to an absolute minimum. A combination of supreme riding precision and agility as well as unparalleled engine power and performance has been achieved.
The engine has a very compact cylinder head and is narrow in shape. Following the example of BMW's Formula 1 engines, the two intake and exhaust valves per cylinder are made of extra-light titanium and are operated by very small, and equally light, single cam followers. In conjunction with the short sprocket driving the camshaft via an intermediate gear, this ensures supreme revving qualities at the highest speeds as well as exact maintenance of valve timing combined with very compact dimensions.
The motorcycle also boasts a newly-developed sports ABS featuring four different modes at the touch of a button: "RAIN" when faced with varying riding conditions such as wet roads, "SPORT" for regular road conditions, "RACE" when on a race track with supersport tyres and "SLICK" when on a race track with slicks. The rider also has the choice of various engine characteristics, again, at the touch of a button. These features combined with the DTC (Dynamic Traction Control system) ensures that active safety is significantly enhanced when braking with the Race ABS developed specifically for the S 1000 RR.
The S 1000 RR stands out from its competitors, with its distinctive design closely reflecting its racing pedigree. Visually, it is exceptionally slender, adding to its sporty appearance. The overall design has a short, low front end and compact rear, emphasising balanced proportions.
The race version of the motorcycle was unveiled at the Intermot international motorcycle show in October, 2008 and has been campaigned by Troy Corser and Ruben Xaus in this year's Superbike World Championship.
Adrian Roderick, General Manager BMW Motorrad UK, said: "Never before has a BMW motorcycle been conceived and built more consistently for supersport riding, in terms of its concept and overall construction. However, the new S 1000 RR retains many of the virtues so typical of every BMW to this day: Excellent riding dynamics, combined with supreme everyday riding qualities; precise handling together with supreme riding stability; outstanding performance combined with unparalleled active safety; as well as dynamic optimum ergonomics and aerodynamics."
The new S 1000 RR will be available in four finishes: Mineral silver metallic, Acid Green metallic, Thunder Grey metallic and – based on the BMW Motorrad racing colours - Alpine White/Lupine Blue/Magma Red.
The serial production machine BMW S 1000 RR is already available to order in BMW Motorrad dealerships with deliveries expected at the end of the year following its 5 December launch.
The price of the S 1000 RR in the UK has yet to be fixed but it will be priced competitively within the 1000 cc supersport sector.