Metal theft is an EU wide problem for all businesses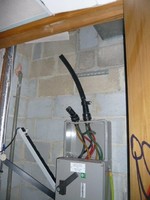 Theft of valuable metals from properties and infrastructure is a Europe-wide problem and businesses are bearing the brunt of the cost, warns Simon Broadbent, CEO of Secure Empty Property.
The specialist security contractor reports that where metal is stripped to be re-sold by criminals, the damage caused when it is removed far exceeds the value of the commodity stolen. The company estimates that repair costs can be as much as 50 times the value of the metal in some cases. Costs can relate to lead stolen from a church roof, power outages from copper being stolen from substations or rail passengers and train operating companies dealing with costly delays after cable has been stolen from the railway. Vacant commercial properties are especially vulnerable as security is frequently insufficient to meet the risks of determined attack.
In the Republic of Ireland, metal theft is a significant problem with the national electricity provider reporting six incidents of cable theft per week representing about 140Km of copper with an associated repair cost of 27m Euro over a four year period. Foreign gangs are understood to be behind many major incidents with the involvement of both Europol and the Gardai. There are claims that overseas gangs are even flying in to carry out thefts after vulnerable locations have been pinpointed by associates.
In the UK by comparison, a robust response to such thefts has been instigated with the Scrap Metal Dealer's Act 2013, which came into force on 1 October 2013, demanding scrap dealers obtain a full license, carefully record each sale of metal to deter a 'no questions asked' culture, and refrain from making cash payments in exchange for scrap metal.
However, the UK's Nationwide Metal Theft Taskforce headed by the British Transport Police has now been reduced to a 'skeleton' staff as funding has not been renewed. Although bodies such as the British Metals Recycling Association – BNRA educates scrap metal dealers about metal theft, highlighting what to look out for when metal and cable is brought into yards, there is a limit to what they can achieve without police and specialist taskforce support.
Secure Empty Property has seen a spike of metal theft from vacant residential, commercial and industrial premises as commodity prices peak increasing the rewards to this criminal behavior. Worse, landlords face repair costs upwards of 50 times the cost of the metal itself. These costs are associated with replacement of lost cabling, making good damage to partitions and plasterwork, lost rental income and even increased insurance premiums. This can leave the owner with bills of thousands of pounds. On top of this, the impact upon the business reputation, business interruption, delays in disposal or refurbishment of the property can be business critical.
Recent examples of mains electricity cable theft seen by the company include the removal of the main electricity supply feed to a large nursing home on the South coast just metres from the sub-station. Here, the cable was so heavy that it had been removed awaiting nightfall and a vehicle to remove the copper from site. The thieves had even set a bonfire to strip the plastic coating from the cable. Luckily, the landlord instructed Secure Empty Property and a range of temporary CCTV verified intruder detectors with 24-hour monitoring and response was installed together with a temporary concrete vehicle barrier to prevent access to the site. This security technology has prevented any subsequent damage to the property.
Secure Empty Property was set up in 2012 by its Chief Executive Simon Broadbent, who has more than 25 years' experience in the industry. It now employs 27 people and is the fastest growing business of its type in the UK. The company is backed by Enterprise Ventures, which manages The North West Fund for Venture Capital which in turn is financed by the European Regional Development Fund and the European Investment Bank.
The company provides rapid-response security services such as steel shuttering and temporary monitored intruder alarms to properties nationwide. Its services help prevent vandalism, squatting, arson and theft from empty properties, and protects landlords against liability for trespassers.
Secure Empty Property Chief Executive Simon Broadbent says, 'The theft of electricity cable from empty property poses a real risk to both the property and the vandal. Landlords can be faced with a massive bill to reinstate supply and make good. However the thieves can pay with their lives when removing power distribution cabling. We urge property managers to mitigate these risks before they happen'.
For more information, visit secureemptyproperty.com.