Marco Pierre White launches new cookbook 'Essentially Marco'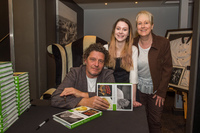 The godfather of British cuisine, Marco Pierre White, has launched a new cookbook 'Essentially Marco' which is described as being "perfect for the home cook".
Taking place at DoubleTree by Hilton, Cadbury House in Congresbury, the exclusive UK book launch saw fans from across the South West meet the celebrity chef at two special book signings at the venue.
A lunchtime event was held at the Marco Pierre White Steakhouse Bar & Grill within the hotel while an evening signing was hosted at the new Bardolino restaurant within the health club and spa.
Essentially Marco, promises to remove all the complications of cooking to deliver clear-cut, fuss-free recipes for comfort food favourites and restaurant classics. Sharing heaps of cooking tricks and tips, Marco serves a feast of easy-to-make dishes, stripping away the time-consuming elements of professional cooking.
With stunning food photography by Chris Terry, Essentially Marco is divided into four sections: starters, fish, meat and puddings. There are recipes for every palate and occasion, whether it's the celebratory roast, the family meal on a summer's day, a romantic supper for two, or a hearty, warming dish for a wintry night.
Commenting on his new cookbook, Marco said: "The idea behind Essentially Marco is to show people that they don't need to be a professional chef in order to create delicious and hearty dishes that can feed the whole family.
"A lot of the dishes I cover in my latest cookbook can be easily prepared at home, and guests at MPW Steakhouse Bar & Grill in Bristol will be able to experience some of these cooking techniques during my visit."
The Marco Pierre White Steakhouse Bar & Grill is located within the DoubleTree by Hilton, Cadbury House hotel and features an elegant dining room, a stylish bar and a contemporary Garden Room, which boasts panoramic views of the North Somerset countryside.
Marco has also recently opened Bardolino Pizzeria, Bellini & Espresso Bar within the health club and spa at Cadbury House. Named after the birthplace of his mother, Bardolino specialises in authentic Italian food.
For more information about Cadbury House and Marco's restaurants visit cadburyhotelbristol.co.uk.