4 billionaires who support kids non-profits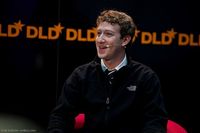 Sometimes it's all too easy to focus on the glamor and glitz of a wealthy life and forget about the good things the rich and famous do. Let's take a look at a few billionaires who support children's nonprofits and thereby show that their hearts are in the right place.
Daryl Katz
Canadian magnate Daryl Katz is best known for his involvement in the pharmacy industry and as the owner of the Edmonton Oilers hockey team. He bought the NHL team in 2008 because he's always been a passionate fan of the sport. Naturally, Katz and his wife passed on some of that hockey love to their children.
When Katz tasked his two children, Chloe and Harrison, with the assignment to find a way to give back to the community, the result was Hockey Helps Kids. Along with members of the Oilers, Chloe and Harrison are helping to raise money for charities selected by local schools.
Mark Zuckerberg
Mark Zuckerberg is renowned as the face of Facebook, but there's more to this innovative thinker than the world's largest social media website. Zuckerberg and his wife, Priscilla, have donated well over a billion dollars to charity so far, and it doesn't look like they plan on stopping.
One of their most outstanding donations was to public schools in San Francisco, California, and Newark, New Jersey. The public schools in these cities have a combined enrollment of more than 90,000 students, meaning that many kids owe a big thanks to the Zuckerbergs. The donation was a whopping $100 million.
George Lucas
George Lucas is the creative mind behind the "Star Wars" franchise, and whether or not you like lightsabers and Jedi knights, you have to admire Lucas' commitment to giving. When this entertainment megastar sold the "Star Wars" name to Disney for over $4 billion, he said he would give most of that money to his philanthropic endeavors.
One of Lucas' charities is Edutopia, a website from the George Lucas Educational Foundation, which seeks to foster innovation in schools. Edutopia works with six core learning strategies. He has also given generously to the Make a Wish Foundation, which grants "wishes" to children who are facing serious illnesses.
Azim Premji
Azim Premji, who is known in some circles as the Czar of the Indian IT Industry, is more than a savvy businessman. Over a decade ago, he established the Azim Premji Foundation, a nonprofit organization that seeks to improve the quality of education in India. The foundation works in eight Indian states, which altogether have more than 300,000 schools.
The foundation's cause is a noble one, especially when you consider some of the unfortunate facts about education in India. While most children attend primary school, only about 40 percent of them move on to secondary school. Millions of children in this country do not attend school at all.
The world's elite are focused on more than simply padding their fortunes. Many of them seek to help children by supporting nonprofit organizations.