Panama: The luxury holiday destination of choice for those who know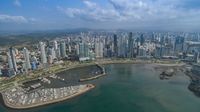 Panama is most famous for its canal, but the country is much more than just a convenient link between the Atlantic and Pacific oceans. While there are many interesting things to learn about the canal itself, Panama as a whole offers a stunning mix of gorgeous beaches rainforest, and marine life.
With its luxury shops, restaurants and hotels, The Soho Panama mall attracts a high-classer of clientele to Panama City. In the mall, you will find the 220-room 5* Ritz Carlton, replete with four restaurants, two swimming pools, and a spa. In fact, Panama has multiple luxury 5* hotels across the country and in a recent study it was found to be the 8th most luxurious travel destination when it came to the ratio of hotels to 5* hotels.
Panama's fast-growing economy now makes it the travel spot of choice for more distinguished guests. If you're looking for somewhere unique and luxurious to spend your holiday, here is our guide to getting nothing but the best…
Where to stay
For some of the best views in Panama, book a water-facing suite at the InterContinental Miramar Panama. Enjoy access to the Club Lounge on the fifth-floor for breakfast in the morning, and see the city through large windows as the sun rises.
The Bella Vista hotel also offers breath-taking views. It sits alongside the Cinta Costera, a 35-hectare reclamation project that offers you beautiful green scenery without leaving the city. Take relaxing walks, jog, or ride bikes along the 4km stretch and soak up the stunning panoramic skyline.
If you want to stay somewhere untouched by tourism, you may wish to try The Trump International Hotel & Tower Panama in Punta Pacifica. The building takes the shape of a sailboat and stands proud on the city skyline. The ultra-stylish guestrooms and infinity pool on deck are even more impressive. Meanwhile, the vast casino stretches over three levels and offers magnificent vistas from its 66th-storey roller floor.
What to see
Start by visiting the Gamboa Rainforest, just 30 minutes away from Panama City. A cable car takes you 85 metres above the rainforest floor, and is yet another sight to behold. It includes balsa and trumpet trees, mountain figs and an abundance of lush flora.
As you make your way through the treetops, you may hear the sound of drumming in the distance. This is the indigenous people of the Embera village welcoming you to their home. You may also spot chestnut mandibled toucans and baby sloths.
To see Panama's extraordinary marine life, there is nowhere better than the National Marine Park on the island of Coiba, home to more than 800 different species. This is also one of the best places to enjoy scuba diving and snorkelling anywhere in the Pacific.
Want to find out more about Panama's marine and wildlife? If so, visit the Biomuseo. Opened in 2014, the museum building itself is misshapen and features striking blue, yellow and red hues and is certainly enough to gain the attention of visitors. Step inside the museum to gain an understanding of the importance of Panama's rich biodiversity.
Panama is also home to the beautiful Pearl Islands, featuring miles of white sandy beaches and lush forests. If you wish to explore everything the islands have to offer, you may wish to charter a private yacht.
Where to eat
For cuisine, a great place to start is the historic district of Casco Viejo in Panama City. One of the best restaurants in Casco is Manolo Caracol. With almost three quarters of its menu coming from ingredients taken from its own farm, fresh food doesn't get any fresher than it does here!
The menu depends on what produce and seafood chef Andrés Morataya can source from week to week. Expect to find modern delights like crispy patacónes topped with prawns, or seafood, achiote and coconut soup at this restaurant.
Away from Casco, Riesen is a restaurant you simply must try if you love food. While it sits in the less-refined neighbourhood of El Cangrejo, Riesen is award winning and highly regarded.
Chef Hernan Correa mixes traditional Panamanian ingredients with modern cooking techniques. This produces starters like the moreish vegetable root crisps, and avocado slices. For a main course, calamari with coconut and peach palm, and braised beef tongue come highly recommended.