Make 2017 the year you cut home heating costs - a month by month guide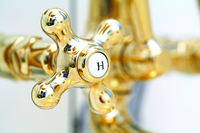 There seems no doubt that 2017 will see the cost of living go up dramatically; predictions are for inflation to even triple.
One expense none of us can avoid is keeping our homes warm but there are ways to keep the costs down. Advice from one of the UK's largest independent heating contractors, Swale Heating (swaleheating.com) is to target one area of your home heating each month to make sure it's as efficient as possible and to spread the load of any expenses associated with updating.
January
You're probably still using the heating daily in January so don't start making unnecessary changes. Instead, make it a New Year's resolution to plan ahead. Most importantly, have you got an annual service booked for your boiler? This is one of the most cost efficient actions you can take and maintains the warranty on a newly installed boiler. Book it now if you've not had one in the last 12 months or make a note to do it later in the year if it's not yet due.
February
Check every radiator for cold spots which might be caused by trapped air. If there are any inconsistencies in warmth, try bleeding the radiator to release the air – there are lots of sites online that tell you how. Make this a regular activity to keep the system working efficiently. If bleeding the radiator makes no difference, the cold spots might be caused by sludge in the system and this should be dealt with by a registered engineer. Removing the sludge could improve your system's efficiency by up to 15%.
March
The weather should start to improve so turn down the thermostat. Just one degree cooler could reduce your energy emissions by 184kg a year and save you up to £42.
April
Check the age of your boiler. If it's more than 12 years old, it's almost certainly costing you more to run than a new model. Summer is the best time to change your boiler so get at least three quotes now from a company that has engineers who are all on the Gas Safe Register. You can then take time to consider your options.
May
Fit thermostatic radiator valves so that you can adjust the temperature in individual rooms. Install them on every radiator and, used with a room thermostat, you could save up to £155 a year and 660kg of carbon dioxide in a typical three-bed semi-detached house.
June
Install smart heating controls. The latest technology will give you instant control over your heating through your smartphone. Some can be installed by a competent DIYer but the most advanced will need a qualified electrician.
July
Put radiator reflector panels in, particularly if you have uninsulated walls. They can reduce heat being lost at the rear of the radiator.
August
Check your energy tariff to make sure you're on the best deal for the coming winter. If you've been on a fixed rate that has expired, you're almost certainly now paying more than necessary.
September
It's Gas Safety Week this month so make sure you have a CO monitor installed wherever you have a gas or solid fuel appliance.
October
Make your heating system winter-ready. Lag any pipes that might be prone to freezing, run the system to check that radiators are heating up consistently and check that the insulation in your loft is up to standard. Insulating your loft could save £140 a year and 590kg of carbon dioxide – done properly, it won't need attention for another four decades!
November
Check the insulation on your hot water cylinder. It should be at least 75mm thick and made to BS standards. Fitting a jacket this month could cut heat loss by 75% saving you £25 - £35 a year.
December
Your home should be warm and fuel efficient. Happy Christmas!