Plenty of style and space - but no bother!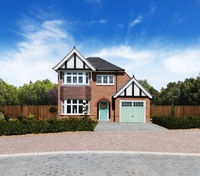 When the children have flown the nest or life could just be simpler, many couples decide to downsize their home – but pruning back on the number of bedrooms doesn't mean taking the shears to style.
So the stunning properties at Redrow's Maple Gardens in Evesham, Worcestershire, might just be what buyers need to branch out to better living.
Close to the River Avon and open fields, the delightful development enjoys the best of both worlds, keeping people close to road and rail connections while offering bright and airy modern homes in an idyllic country location.
And Redrow has thought carefully about the types of homes its customers want.
"Just because people want fewer bedrooms doesn't necessarily mean they want less space," says Stuart Norton, group design and technical director for Redrow Homes. "A significant proportion of our home-owners are 50 and above, and we have been taking a much closer look at the downsizer market so that we can make sure our homes fulfil their needs and desires.
"What we have discovered is that today's downsizers do want a convenient and stress-free lifestyle, but they still want plenty of space for entertaining – and to be able to take key items of furniture with them when they move from a larger property.
"So it is important to realise that downsizer homes are not necessarily smaller properties but, simply, ones that are more manageable, easier to maintain, secure, energy-efficient and in locations where everything an owner wants is right there on the doorstep."
Taking this into consideration, Redrow has updated many of its property layouts and specifications.
Pauline Turnbull, sales director for Redrow Homes (Midlands), says: "What many downsizers long for in a new property is fewer bedrooms but larger and better appointed, more storage, larger bathrooms with walk-in showers and a reasonably sized but easy-to-manage garden. The three-bedroom detached Leamington and Worcester styles at Maple Gardens tick all these boxes and more."
Recognising that the kitchen is the hub of family life, Redrow has made this the focal point of The Leamington's ground floor layout, with a combined kitchen, dining and family room overlooking the garden. There's also a separate lounge, utility and convenient cloakroom.
Up on the first floor all three bedrooms are doubles, with the master bedroom boasting both a walk-in wardrobe and an en-suite with an extra wide shower to complement the family bathroom.
Similarly, The Worcester, has open plan living at its heart, with a handy utility and cloakroom adding to ease of life and, again, with three large bedrooms and an en-suite to the master.
These two properties are priced from £349,999 and £324,999 respectively, meaning a better and easier life is affordable too.
"To be honest, we prefer the term 'rightsizers' to 'downsizers' when people are looking for a home that suits their way of living at a particular stage of their life," adds Pauline. "But whatever term we use, our focus is on creating a beautiful yet practical home for them so they can make the most of their time; travelling, entertaining or enjoying their hobbies, instead of worrying about an old draughty house."
Situated on Offenham Road, the homes at Maple Gardens enjoy a green setting close to the countryside and within easy reach of the town and all its amenities, with strong commuter links and, for families, good schools nearby.
Show homes at the development are open Thursday to Monday from 9am to 4.30pm. For more information see redrow.co.uk/maplegardens.