How to furnish your home properly in 2017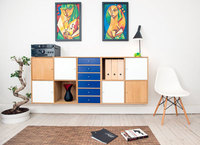 Furnishing your home can be challenging. On top of finding the right goods at the right price, elements such as comfort, style and convenience also come to mind. So how do you furnish your home properly in 2017? Read on for our fail-safe guide.
Splash out on staple pieces
If you're on a budget or you just want to be efficient with your spending, then you should consider saving your money for staple pieces that will have the biggest impact on rooms. Whether that's an expensive leather sofa, a piece of wall art or shaggy carpet in the living room, it's easy to invest in high-quality furnishings that will transform your home, and then use the remainder of your budget to buy other essentials such as side tables, lamps and television sets. The smarter you are with your budget, the further your money will go.
Copy the experts
Let's face it – we can't all be interior design experts. If you're struggling for inspiration when it comes to furnishing your property, consider taking advantage of the many blogs and social networking handles dedicated to curating styles and themes for properties. Pinterest, for example, is home to millions of furniture-related posts, so use the site as a virtual pin board and put together your favourite looks into one handy folder. Then, when it comes to shopping for your new furniture, you can look over your favourite pieces and find alternatives that suit your style and your budget.
Use an app
When it comes to interior design, you may not think that the adage of 'there's an app for that' would ring true – but you'd be wrong! Interior design app Adornably allows users to play around with potential furniture purchases using photorealistic technology. If there's a particular sofa or table that you'd like for your home, for example, you can use the app to visualise where it will fit, and whether or not it will work for your room. This app takes away the stresses of investing in expensive furniture, allowing you to see the furniture as if it was in your room. What's more, the catalogue includes furniture from a wide range of designers and allows you to make in-app purchases if you see a piece that you'd like for your home.
Don't scrimp on finishing touches
If you want to ensure that your home is adequately furnished, be sure to think about every detail. There's little point in spending money on an expensive property, only to furnish it with low-quality accessories and finishing touches that add no value or aesthetic value to your home. When it comes to your door frames, make sure you use the right colours and varnishes, and buy high-quality door handles from an ironmongery based in London.
By taking the time to analyse furnishings before purchasing, you'll be able to save time, reduce stress, and get the home of your dreams at a fraction of the cost of hiring an interior designer. Good luck!