New Redrow homes coming soon in Luton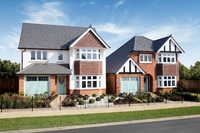 Luton homebuyers will have plenty to choose from with the forthcoming launch of new Redrow homes as part of the wider Napier Park development.
The award-winning housebuilder Redrow plans to build around 520 properties on a 20-acre site. They will be available via two outlets – Volanti will offer bespoke-design apartments; while Eaton Green Heights will feature properties from the Heritage Collection.
Soon to launch 'off plan' Eaton Green Heights will offer 249 properties including one and two-bedroom apartments, plus three and four-bedroom family homes.
Potential purchasers are encouraged to register their interest to be kept informed of when the first properties will be released for sale.
Kerry McCoubrey, sales director for Redrow Homes (Eastern), said: "This part of Luton is undergoing major investment and we're proud to be playing our part in revitalising the area to provide much needed new homes. The Heritage Collection is our most popular range of homes and we're already seeing strong interest from potential purchasers. People love that these designs offer the charm and character of 'period' properties, with all the style and convenience of being brand new and no costly repairs or renovations required."
Designed to meet the demands of modern family living, the homes will enjoy a high specification as standard. Kitchens will be well equipped with integrated top brand name appliances, while bathrooms and en-suites will benefit from sleek white suites with quality fixtures and fittings.
Prices for the homes will be announced at the launch.
"Research shows it could cost up to £40,000 to bring an older property up to the same standard as a brand new home when you factor in things like replacement windows, a new roof, replacing the central heating system and installing a high quality kitchen and bathroom," Kerry added.
"Plus, if that wasn't enough, our research also suggests that if you choose a brand new home over a modernised Victorian property you could save up to £1,300 every year on your energy bills."
Along with the homes, Redrow will be creating 4,730 sq m of new woodland, a 3,700 sq m wildflower meadow and 4,500 sq m of public open space, plus a pedestrian and cycle route linking to neighbouring areas and nearby Luton Airport Parkway station.
The wider Napier Park regeneration scheme will revitalise the long-vacant brownfield site, providing new homes and development for a range of other uses, including retail, office, industrial/storage, distribution, hotel and leisure.
Luton itself boasts super transport links to London; Luton station and Luton Airport Parkway offer direct trains to London St Pancras with journey times of just 26 minutes from Luton Airport Parkway to the capital or 32 minutes from Luton station. The M1 is also easily accessible from the development, and when it comes to international travel, the homes will be perfectly placed within easy reach of Luton Airport.
To register your interest in the homes at Eaton Green Height, visit redrow.co.uk/eatongreen.