Bellway welcomes investment in homes and infrastructure for Oxford to Cambridge corridor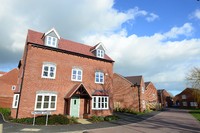 Bellway has welcomed news of Government investment in housing and infrastructure between Oxford, Milton Keynes and Cambridge.
Chancellor Philip Hammond's Autumn Budget speech included news that 100,000 homes would be built in Oxfordshire by 2031. There will also be investment to support a new 'Silicon Valley' in the corridor between Oxford, Milton Keynes and Cambridge.
Based on recommendations from the National Infrastructure Commission, the plans will unlock land for up to one million homes and improve rail and road links between the three key locations.
Bellway is one of the country's largest housebuilders and holds the coveted HBF Five Star Builder status. The developer is currently building hundreds of homes across Oxfordshire, Milton Keynes and Bedfordshire, with plans for more new homes across these areas and in Cambridgeshire.
In Milton Keynes alone, Bellway has built more than 300 homes over the past five years and work is progressing on a further 200.
Chris Edginton is Sales and Marketing Director for Bellway Northern Home Counties, which has its headquarters in Milton Keynes. He said: "Bellway is committed to increasing the delivery of new homes across the country and we have seen a steady rise in demand for homes in Oxfordshire, Bedfordshire and Milton Keynes over the past five years.
"The area offers strong employment opportunities and is well placed for commuters needing access to London, yet property prices are significantly more accessible than in the South East.
"This investment will directly benefit communities across our area by offering better transport links. The promise of more land for housing development will support our efforts to build the high quality homes required to support the continued growth of the economy.
"In addition to the focus on science, technology and innovation jobs, the initiative will lead to the creation of more jobs in the construction industry. Government plans to fund training and retraining in construction skills will therefore be especially important across the area.
"The continuation of Help to Buy up to 2021 and yesterday's announcement on the abolition of Stamp Duty for most first-time buyers will ensure the homes we build remain accessible to local people."
Stamp Duty has been immediately abolished for first-time buyers of properties priced up to £300,000.
Help to Buy offers a 20 per cent equity loan, which is interest-free for five years, on new homes priced up to £600,000. The purchaser requires a five per cent deposit and a 75 per cent mortgage. The scheme is open to first-time buyers and people who already own a home but cannot be used for investment properties or second homes.
For more information on homes or careers with Bellway see bellway.co.uk.