Generation Y become Generation 'why rent' in Newport Pagnell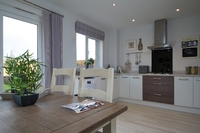 Half of new homes buyers in Newport Pagnell are under 35 and a third of customers at Priory Mews are first time homeowners, making the location somewhat of a 'first time buyer hotspot'.
Redrow's insight into market conditions in the Buckinghamshire town prove that younger buyers are still keen to own a home, despite being commonly dubbed "Generation Rent".
Nationally, the picture for would-be homeowners seems to be improving, with the number of mortgages taken out by first time buyers hitting an 11-year high, according to recent reports from UK Finance, who also suggested that the average age people step onto the property ladder is now 30.
Tonia Tyler, sales director for Redrow Homes (South Midlands), said: "Millennials or Generation Y are commonly dubbed "Generation Rent", but our experience at Priory Mews suggests those in Newport Pagnell are bucking that trend. A third of our customers are first time buyers, but what's perhaps surprising is that half of homeowners here are under 35, including those making their next step on the housing ladder.
"It shows that people do still see the value in buying over renting, both in terms of monthly mortgage payments generally being lower than the equivalent rent and the fact they have more freedom compared to living at home with parents or as a tenant."
Current availability at Priory Mews includes four-bedroom homes in a choice of styles, priced from £384,950.
The properties fall within the threshold for Help to Buy. The Government-backed scheme gives purchasers the chance to take out an equity loan for up to 20% of the property price, leaving them needing a deposit as little as 5% and a 75% mortgage from a lender of choice
The scheme is open to both first time buyers and those who've sold the property they're moving from subject to contract.
First time buyers can also benefit from reduced Stamp Duty rates, which would see them pay just £4,249 in tax – that's less than half of what other purchasers would pay for the same property.
Located on Tickford Street, the properties at Priory Mews are ideally close to the heart of Newport Pagnell and just five miles from Milton Keynes; while London is within an hour's commute.
The sales office and show homes at Priory Mews are open daily from 10am to 5.30pm. For the latest availability and pricing. visit redrow.co.uk/priorymews.