Blackpool attraction excited about breaking medical 'Tricorder' news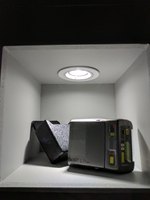 One of the UK's 'star' attractions, Star Trek: The Exhibition, in Blackpool, has been homing in on news reports suggesting one of the exhibits on show in its Star Trek collection is inspiring 21st century medical technology by becoming the catalyst for a phenomenal medical advance.
On April 10, the BBC reported that the 'Tricorder' – a device first created for the Star Trek: The Next Generation TV series, to scan the body and instantly diagnose any illness or ailment – would soon be developed for real.
Today (April 13), the Washington Post has announced that the Qualcomm Tricorder XPRIZE competition, launched in 2012, to enable a team of scientists to develop such a device, has been won by an American team called Final Frontier Medical Devices. They were the last of 312 teams, from 38 countries, left standing, after they beat Taiwanese counterparts, Dynamical Biomarkers Group, to claim the prize. Both teams' Tricorders, as inspired by Star Trek, are now likely to be developed.
In the Star Trek TV series, the Tricorder was a portable and multi-purpose diagnostic tool capable of sensing, computing and recording information for the members of Starfleet. Specialised Tricorders were developed for specific use in medical, scientific and engineering scenarios and the medical version scanned people to assess and diagnose their medical condition.
The XPRIZE competition was launched to inspire the creation of an actual Tricorder - the world's first mobile device that will provide diagnoses comparable, or better, than those of physicians. The Tricorder prototypes created by Final Frontier Medical Devices and Dynamical Biomarkers Group accurately diagnose 13 health conditions and capture five real-time health vital signs, allowing consumers to diagnose their own health issues. It is said to be a revolution in home healthcare.
Conditions that will be diagnosed include diabetes, pneumonia, atrial fibrillation and sleep apnea. Notably, they also include Chronic Obstructive Pulmonary Disease, from which one of Star Trek's best-known actors, Leonard Nimoy (Spock), died in 2015.
Real-time health vital signs monitored by the device are blood pressure, heart rate, oxygen saturation, respiratory rate and temperature.
The news that a real-world, rather than sci-fi, 'Tricorder' will now be developed was met with great excitement at Star Trek: The Exhibition - the Promenade-based visitor attraction within the Lancashire seaside resort of Blackpool. It believes this development will encourage many people to visit and see the Star Trek prop that has inspired such groundbreaking medical innovation. It also expects it to be the catalyst for many more school trips.
This is because, the XPRIZE development will make the Tricorder just the latest Star Trek 'gadget' to become a prototype for technology that is in common use in our lives today.
As Star Trek: The Exhibition's downloadable education pack highlights, other props used in the Star Trek TV series and movies are now bearing an uncanny resemblance to modern-day laptops, mobile flip phones, Ipads, iPhones and iPods, not to mention computer chips, TV remote controls, USB sticks, flash drives, Bluetooth devices and tasers, and even Google Translate and various voice translator apps.
All of the props that inspired such technology are on show in the Blackpool-based visitor attraction, enabling visitors and schoolchildren to compare and contrast the amazing fictional devices with their current day gadgets.
Star Trek: The Exhibition's manager, Rui Antao, says: "We always try to highlight just how great a visionary Star Trek creator Gene Roddenberry was and how amazing it is that he created Star Trek, and its associated technology, before man even stepped foot on the moon.
"Our education pack also explains how Star Trek: The Original Series aired against the backdrop of the Cold War and the Race to the Moon. Now, we have seen the culmination of a battle to develop the first working Tricorder and two nations have earned the right to make history in their own way, inspired by Star Trek."
More details about Star Trek: The Exhibition, and the downloadable education pack, can be found at startrekblackpool.co.uk.
Those wishing to visit and view all the Star Trek devices that have become prototypes for things in their pocket, handbag, or office can do so by buying tickets online, or on arrival at the attraction. Discounted online tickets cost £12.50 for an adult and £9 for a child aged 10-15. Children under the age of 10 enter for free and there are reductions for students and seniors. A family ticket for four (including at least one child) costs £38 online.
On-the-door tickets are a few pounds more expensive at £14.50, £11.00 and £43, respectively.