Bloor Homes creating gorgeous gardens this spring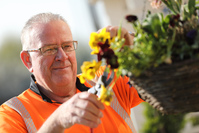 With the official start to spring marking a welcome change in the weather, Bloor Homes South Midlands is challenging home owners across the region to get their outdoor spaces looking tip top this season.
Bloor Homes South Midlands wants to help local residents ensure outside entertaining are at their best before summer comes. It has therefore published its top five tips on gardening this spring, guaranteed to create luscious lawns and blooming borders:
1. Lawns
Spring is the ideal time to give your lawn an early season boost. Regular mowing, at least once a week is required. An application of a feed and weed/moss killer is also the best way to ensure a good lawn for the summer. If your lawn has large amounts of moss, the removal of this through scarifying is beneficial.
2. Soil
Because your soil is likely to be dried out and packed after winter, it's time to add moisture. Add organic material like compost or manure, and to increase the health of the soil and the life of your plants, a fertiliser may be required. In addition, you should think about adding mulch to your flower beds. One to three inches of mulch helps to prevent weeds and diseases. It also maintains moisture levels and an even temperature. The rule of thumb is to keep the mulch a few inches from the plant stems to prevent roots from rotting.
3. Trimming
Plants that survived the winter will need to be pruned so they'll grow anew in the spring. Make sure to wait until mid-April or May in case there's an unexpected freeze. Blooming plants should be pruned straight after they bloom to avoid cutting off future flowers. Summer plants should be pruned in early spring.
4. Planting
Spring is an excellent time for planting new shrubs and bulbs. When selecting plants for the garden take care to choose species such as Forsythia, Camellia, Magnolia or Pieris that will give you continuous colour throughout the year, through both flowers and foliage. A few of our favourite flowering bulbs for vibrant summer colours include Freesia's, Gladiolus, Lillies and Allium.
5. Vegetable Garden
For anyone with a vegetable garden, now is the time it should be cultivated, incorporating a good well rotten manure. When selecting salad crops, make sure you sow in succession at 14 day intervals to give a crop throughout the summer months. The following can be planted in spring: potatoes, brassicas including cabbage, cauliflower and broccoli, peas, beans and root vegetables such as carrots, parsnip and swede.
Graham Argent, landscape gardener for Bloor Homes South Midlands comments: "At Bloor Homes we understand the busy and pressured lives which many of our customers lead and the importance of a low maintenance outdoor space in which to unwind.
"Regardless of your garden size it is still possible to create your very own oasis, somewhere you can relax and feel proud to host family and friends over the summer months. Simple preparation is the key and we hope that with our handy guide, gardens across Warwickshire will get the makeover they deserve this spring."
Bloor Homes is an award winning, family owned developer with developments across the South Midlands region including Buckton Fields and Hunsbury Fields in Northampton, Southam Grange in Southam, Thame Meadows in Thame, Ampthill Chase in Ampthill and St Andrews in Biggleswade. Bloor Homes South Midlands is also set to launch a number of new developments in Towcester, Long Lawford, Drayton and Cranfield.
For further details on the homes and incentives available, visit bloorhomes.com.