What to consider when planning your next promotional event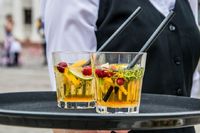 Promotional events can be great for business. Not only do they put your brand in the hands of potential customers, but they allow you to meet real people, network and develop relationships with both fans and like-minded entrepreneurs and business owners.
However, planning a promotional event, whether that's at an exhibition, a trade conference or in a supermarket or shopping centre, can be challenging. There are lots of things to consider and look out for when planning an event, so we've rounded up some of the most important below.
1. Your budget
It can be pretty tempting to splash your entire marketing budget on your next promotional event – after all, you want to impress. However, it's important that you schedule for the event accordingly, and determine, where possible, what your return on investment will be. The more money, or brand recognition, you can drum up during the event, the more likely your future events will be successful, so use this as a starting point. Don't spend too much and risk your chances of running out of money for promoting your brand for the rest of the year!
2. Event staff
Unless you already have a big team of promotional staff at your disposal, the chances are that you'll need to hire people to work for you. KruLive has a great UK coverage and offers promotional and event staff for a wide range of events – and, what's more, they're trained to deliver the most effective brand and promotional messages possible. If you are hiring your own staff for your event, though, be sure to give them adequate training and ensure that your aims and objectives are delivered – otherwise, you'll be throwing money away.
3. Potential customers
You'll already know the types of customers you want to target at your promotional event, so make sure that those people will be attending your promotional campaign. If you want to target small business owners at an exhibition, for example, then you should try to find a stall that's close to other small business stalls – and you should network as soon as you can to build contacts and get the best results. In fact, if you already have a listed of confirmed attendees for the exhibition, then you could consider reaching out to them before the event so that they'll know where you can be found.
4. Following up
In the run-up to your event, you're most likely worrying about putting the final touches together, but you should instead be thinking ahead to what will happen after the event. Use these 12 templates from HubSpot for following up networking events and be responsive in answering any questions people have about your products and services on social media. This is your one chance to impress and demonstrate why your products are worth investing in, so you need to do everything in your power to deliver the best possible customer service.
There you have it – four important things to consider when planning your next event. Whether you're attending your first promotional event or you're a seasoned professional, good luck, and get some sales!