UK mortgage approvals slip by 11% in april as consumer borrowing speeds up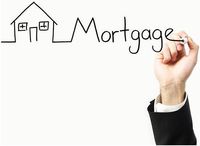 Mortgage lending fell by about 11% in April according to the latest figures from the British Bankers' Association (BBA). Banks authorized 40,750 mortgages for home purchase which was down marginally from the results in March. Figures show that fewer mortgages were approved in April and have been the lowest in the past five months the value of home loans grew at the slowest pace since August which confirms fears that there is a slowdown in the housing market.
Potential home movers struggled to find suitable properties in April. Just recently, the National Association of Estate Agents (NAEA) reported that the number of homes estate agents have on their books was fast dwindling with a record low in the month of March.
The Council of Mortgage Lender's (CML) senior economist, Mohammad Jamei, also way weighed in on the figures that were released. He said: "First-time buyers and re-mortgage customers appear to be buoying the market, as low mortgage rates are encouraging borrowers to re-mortgage and attractive government schemes are helping first-time buyers. "We expect this trend to continue over the coming months". "Home movers are having less luck. Their activity has been subdued for some time now and the low number of movers means fewer properties for sale. This supply and demand imbalance will continue to underpin house price values, even as the rate of price rises slows."
On the other side, the BBA, which collates the data, reported that the rise in retail sales over the Easter period reflects the rise in consumer borrowing in April. The figures from the British Banking Association also showed growth in consumer borrowing picked up a bit of pace last month as shoppers spent more on food over the Easter holidays.
Shopper lending grew by 6.4%, which was a rise from the 6.2 % in March which had been the weakest enhance in practically a year.
"As the spring sunshine picked up in April, so did consumer spending," Eric Leenders, the BBA's managing director for retail banking, said". "Annual growth in consumer borrowing from the main high street banks grew due to increased customer use of credit cards". "This was also reflected by uplift in retail sales volumes, particularly among food retailers over the Easter period," he said.
The BBA data only covers Barclays, HSBC, Lloyds Banking Group, RBS, Santander, TSB and Virgin Money It does not cater for non-bank lenders like building societies, which account for a big chunk of mortgage lending nor online lending platforms such as LendGenius which make loans available to small business owners.
Britain's economy grew strongly last year, but there has been rising inflation since the Brexit vote in June 2016 which has started to weaken consumer demand and house prices are rising more slowly.
The figures that were released by the British Banking Affiliation confirmed a steady increase in client borrowing in April. This was because customers spent extra on meals and commodities over the Easter holidays and has stepped up the tempo a little bit. Whether this increase will be sustained in the coming months is yet to be known.