What to consider when choosing a vehicle to suit your family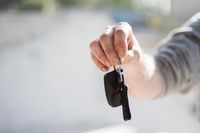 Buying a family car is a completely different affair to buying a car for just you. No longer is it simply about convenience and the ability for it to get you from A to B – now it has to have more safety features, more room, and potentially even a few gadgets and gizmos to keep the younger ones entertained. However, what should you prioritise when it comes to getting a car for the whole family?
Ensure That You're Insured
If you and your partner drive, will be you be sharing the one car or will you have one each? Many families choose to have one car for general driving and one for when they've got the whole family if both adults drive. This leads onto the insurance – will you be requiring your partner to be a 'named driver'? Knowing exactly what your wants and needs are when buying a new car (including the purpose of why you use your car and how secure it is) can help reduce the cost of your insurance when you visit an affordable and reputable insurer like Call Wiser Car Insurance.
Research the Size
Getting a car that is big enough to fit the whole family in comfortably might feel like a challenge. If you have three children, and have them all sitting in the back, the size of the car becomes even more important – you don't want it to be overly cramped. If you want the car to be incredibly spacious then it's worth going for either an SUV, an MPV or an estate. All offer more room than a hatchback car, though they can end up costing more money when it comes to fuel due to their lack of efficiency. However, before you decide it's always worth going online and seeing what seems appealing to you – you never know which car might take your fancy. With the internet, finding a family car has never been easier.
Is it Practical?
Practicality is a key issue when it comes to choosing a family car. If you require a car seat for the younger ones, then you'll need enough room to put the seat in, but also to be able to do so without risking the door closing on you. This could potentially lead to you getting a sliding door. Children may well stain the seats – this could potentially make you reconsider the colour of the inside furnishings and go with a darker interior. It could also be worth looking at cars with tinted windows to make longer car journeys more bearable for the younger ones. Even how loud the engine sounds when you're in the car can make a difference when you've got young children. Making note of all the needs you have when it comes to buying a new car, however insignificant you may think they feel, will make finding a new car simpler.
Safety
This is arguably the most important part of buying a family car. By just going online and checking a car's safety rating, you could discover that your dream car may not be as perfect as you'd anticipated. (The car's safety rating is judged through numerous tests, including crash tests.) Due to most cars on the European market holding a Euro NCAP rating, manufacturers are continuing to find ways to make their cars safer, especially for families. By adding in a whole host of features, such as hill start assists, anti-lock brakes, and electronic stability programmes, companies are making being inside the car a lot safer for the whole family. However, there are always risks when driving – make sure to take care when you're on the road.